Step into the exciting world of CS:GO betting with our comprehensive platform. Learn how to bet strategically and keep track of the most prestigious CS:GO tournaments. Unleash your passion for esports and elevate your gaming experience with rewarding wins in the captivating realm of Counter-Strike: Global Offensive.
What Is Counter-Strike: Global Offensive?

Top CS:GO Betting Sites

How Does CS:GO Work?

How To Bet On Counter-Strike: Global Offensive

Key Counter-Strike: Global Offensive Tournaments & Leagues
CS:GO Betting Sites & Tips
What Is Counter-Strike: Global Offensive?
Counter-Strike: Global Offensive is the latest game of the Counter-Strike series and one of the world's most-played online video games. As a First-Person Shooter (FPS), CS:GO is similar to other games from its genre but distinctly different to Halo, Call of Duty, and Valorant.

Released in 2012 by Valve, Counter-Strike: Global Offensive is one of the biggest esports titles and a game that had a massive impact on the expansion of the esports betting industry.
Even though Counter-Strike was not the first game to have betting markets available, it's the most accessible and well-covered esports title across traditional and esports bookmakers.
Top CS:GO Betting Sites
How Does CS:GO Work?
Counter-Strike: Global Offensive is a tactical FPS game played between two teams of five players. Like in
Valorant
, each Counter-Strike: Global Offensive game starts with teams taking on the role of attackers or defenders (in CS:GO, Terrorists or Counter-Terrorists), each with their own goal.
The Terrorists have to successfully plant the bomb at one of two bomb sites located on the map and let the time on the bomb run out or eliminate all the Counter-Terrorists.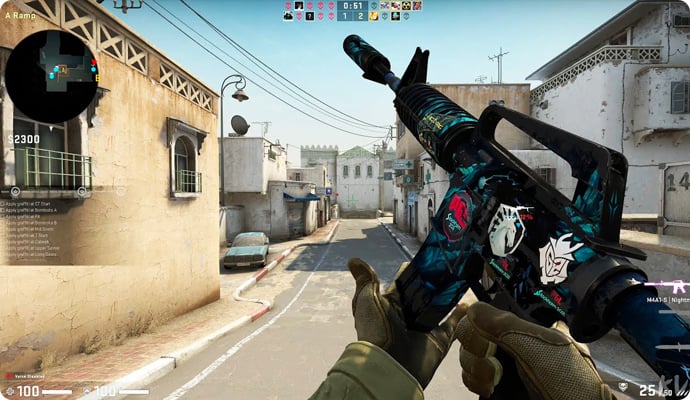 On the other side, the Counter-Terrorist team has to prevent the attackers from planting the bomb before the time runs out, successfully defuse the bomb once it's planted, or eliminate all Terrorists.
A CS:GO map is played until one team reaches 16 rounds (best-of-30). A game can be a best-of-one where the teams will only play one map, but more commonly, a CS:GO match is a best-of-three (Bo3), where the team which wins two maps first wins the series.
In a competitive CS:GO environment, the active duty map pool always has seven unique maps. The map rotation does change, but not often and when it does, typically, only one map gets replaced.
How To Bet On Counter-Strike: Global Offensive
Betting on Counter-Strike: Global Offensive isn't as complex as it may seem. The game is simple to understand, and while it does have a very high skill ceiling, it doesn't take long to get a firm grasp of the basics and understand how to bet on it.
Moreover, CS:GO is an excellent game for those who want to start betting on esports but have never done it before because it doesn't take long to understand it and because CS:GO betting markets are easily accessible on esports bookmakers and traditional sportsbooks. But most importantly, all of the most popular bet types for CS:GO betting are very straightforward.
Moneyline
Moneyline is the most basic wager we can place on a Counter-Strike: Global Offensive. It's a bet on which team will win the match, and it doesn't matter by how many rounds or how fast the team wins – the only thing that matters is the final result.
Handicaps
Handicaps in CS:GO work the same way as in other esports or sports, as a wager bookmakers offer to level the playing field between two teams that are not evenly matched.
Like in other FPS esports, CS:GO handicaps are very straightforward as they only focus on two things – rounds and maps won.
Some bookmakers will offer handicaps on kills, but those are rarely available, and far less common than round and map won handicaps.
Totals
Totals or over/under are one of the most popular CS:GO bets, mainly because they're simple and easy to use. Like totals in sports, the over/under bet is used to predict whether a particular statistic in a CS:GO match will exceed the predetermined value.
Two most commonly available CS:GO totals bets are on maps and rounds, following the same idea as handicaps. And while some bookmakers will also have markets on total kills, those are less common than round and map totals.
Proposition Bets



Proposition bets are wagers on the occurrence or non-occurrence of particular events in a game that don't directly affect the final outcome. CS:GO has many proposition bets; however, the number of available propositions will vary from bookmaker to bookmaker.
The most common CS:GO props include bets on whether there will be a knife or grenade kill, which team will win the pistol round, and whether the map will go overtime.
Outrights
Outrights or futures are all wagers on future events and are most commonly used to predict which CS:GO team will win a tournament. Other notable CS:GO futures include team head-to-head betting, which team will play the most rounds in a tournament, or which player will be declared the MVP.
Key Counter-Strike: Global Offensive Tournaments & Leagues
Counter-Strike: Global Offensive esports ecosystem doesn't have a league format like
League of Legends
or Valorant. It instead consists of hundreds of tournaments of various tiers, which are hosted by various tournament organisers.

Some tournaments serve as qualifiers for other, more significant events, while others are standalone competitions. However, even though the CS:GO competitive scene is very spread, a few tournaments are regarded as some of the most important competitive events of a CS:GO season, including IEM Katowice, IEM Cologne, ESL Pro League, and CS:GO Majors.
It's important to note that there is some structure to CS:GO competitive landscape. For example, The Intel Grand Slam connects all S-Tier events as a competition that awards the first team to win four S-Tier events organised by ESL during a window of 10 consecutive events with an IGS trophy and $1,000,000.
On the other side, BLAST Premier hosts several tournaments that belong to one series and culminate with BLAST Premier World Final.
Another constant in the CS:GO competitive scene is Major Championships. It is the pinnacle of competitive CS:GO and serves the role of a world championship with a +$1 million prize pool. There are typically two Majors per year – one in spring and one in autumn.
Key Counter-Strike: Global Offensive Tournaments:
Intel Extreme Masters Katowice
Intel Extreme Masters Cologne
ESL Pro League
Major Championships
BLAST Premier events