FORZE Esports Finalise Its CS:GO Roster With tN1R
FORZE Esports finalised its CS:GO roster rebuild with Andrey "tN1R" Tatarinovich
Andrey "tN1R" Tatarinovich joins the team from Websterz
FORZE decided for a major roster rebuild despite good results with its previous roster iteration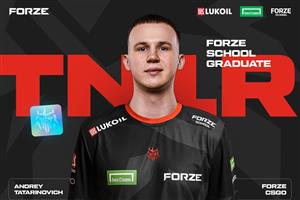 FORZE Esports completed its Counter-Strike: Global Offensive roster on Monday, August 14, with the signing of Andrey "tN1R" Tatarinovich, who joins the Russian roster from Websterz. The announcement comes shortly after FORZE won Russian Cybersport League 2023: Online Stage.
During the offseason, FORZE Esports revamped its roster and released three players. On July 20, FORZE benched Andrey "Jerry" Mekhryakov and Aleksandr "zorte" Zagodyrenko and replaced the duo with two new signings in Aleksey "El1an" Gusev and Dmitry "sstiNiX" Khlebnikov.
Just three days later, FORZE also benched Vladislav "Krad" Kravchenko and shortly after sold zorte to BetBoom Team, leaving the Russian squad with just
four active members on its CS:GO roster
. Despite fielding only four active players, FORZE Esports continue playing with Krad as a stand-in for two tournaments in CCT North Europe Series #6 and Russian Cybersport League 2023: Online Stage.
FORZE won the Russian Cybersport League 2023: Online Stage at the end of July but decided to move on on Monday, August 14, and found a replacement for Krad in Andrey "tN1R" Tatarinovich, who officially joined the team as the fifth and final member.
The 21-year-old Belorussian rifler started his CS:GO esports career in March 2020 with he trialled for Zorka and was soon added to the main lineup. He has since placed for a few other lesser teams, such as forZe School, Save's eSports, River Family, NEWBELARUS, PLATOON Alpha, and Goodjob, before signing his first professional contract with Websterz in October 2022.
He has found some success over the ten months tN1R has spent with Websterz. Most notably, the 21-year-old helped Websterz qualify for Russian Cybersport League 2023, where he reached the finals, only to lose against FORZE, who would end up picking the Belorussian player just three days later.
The recent roster change comes as a shock since FORZE Esports produced solid results with the departed trio, even going deep in events like BetBoom Playlist Urbanistic, ESL Pro League Season 17, and Betboom Playlist Freedom. Nevertheless, the Russian squad seemingly decided to move in another direction with its CS:GO project, with two young additions in tN1r and sstiNix, as well as veteran player El1an, who was most recently a part of K23.
FORZE will debut its new roster at Dunav Party LAN, which is set to kick off on August 24, 2023. The tournament will welcome eight teams competing for the lion's share of the $50,000 prize pool.