Guild Esports Expands Into Men's Counter-Strike
Guild Esports has announced its expansion into Men's Counter-Strike.
The move comes ahead of the upcoming release of Counter-Strike 2.
The decision is fueled by the increasing viewership of the game and promising changes set to revamp Counter-Strike competitive scene.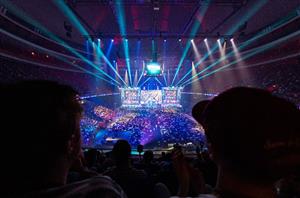 Counter-Strike (Getty Images)
Guild Esports announced its expansion into men's Counter-Strike, ahead of the upcoming release of Counter-Strike 2. The Briths esports organisation unveiled the news after it raised funding to allow it to further expand its presence in the esports scene.
As confirmed by Guild Esports, it raised the necessary funding to launch a men's Counter-Strike team, with funds coming from "multiple sources", including an unnamed national esports federation.
This will mark Guild Esports' first entry into men's Counter-Strike after it already put together a women's CS:GO team in March 2023.
As stated by Guild Esports, the
strong viewership of the game and promising changes coming to Counter-Strike
are the main reasons for the organisation to make a move and improve its involvement in the esports industry. The David Beckham-backed organisation already fields teams in
Rocket League, Valorant, FIFA, Fortnite
, and the
women's CS:GO team
.
A big reason for Guild's expansion is Valve's tournament rule change which will come into effect with Counter-Strike 2 and will essentially shut down any franchise leagues by 2025. This will ultimately significantly reduce costs associated with entry into some of the biggest esports tournaments.
Moreover, the looser rules imposed by Valve would allow Guild Esports to strike a sponsorship deal with a gambling site or another sponsor, which is prohibited in other titles it currently competes in.
But perhaps an even more significant reason is the expected boom in viewership numbers as a result of the reinvigorated community's interest in the game, which was already noticeable in a massive surge in CS:GO player base following Valve's announcement of the release of Counter-Strike 2.
"Counter-Strike is an iconic esport, with an immense fanbase and more than ten years after launching it continues to grow in popularity. Our entry into the men's competitions, underscored by the impending launch of Counter-Strike 2, aligns perfectly with our vision to consistently elevate our brand's presence on a global scale."
"Following the outstanding reception to our all-female Counter-Strike team earlier this year, we're eager to further tap into this burgeoning market, seizing the myriad of sponsorship and revenue opportunities it presents."
While Guild Esports made its intentions and goals clear, it has not disclosed where the organisation received its funding nor which national esports organisation participated in it. However, we know that Guild Esports' new CS:GO team will feature five players and coaching staff and will get announced soon.