MR12 Is Arriving To Counter-Strike 2 – What Does It Mean For Competitive Play?
Counter-Strike 2 (CS2) may shift from MR15 to MR12
The format change could greatly impact the professional scene
The change from MR15 to MR12 has yet to be officially confirmed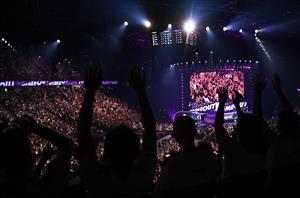 Counter-Strike (Getty Images)
After several leaks suggesting that Counter-Strike 2 will shift towards a new norm of a maximum of 12 rounds, MR12 has now become the default setting in competitive mode in practice. Although yet to be officially confirmed, it seems like the shift towards quicker games Is all but guaranteed.
Valve has yet to reveal when Counter-Strike 2 will release, but CS2 limited beta has been out for a while, giving the players a chance to test out the new game before it releases to the public. Among many changes the latest game in the CS series will bring is also a possible shift to MR12 format, which has been accepted with a mixed response from the player base.
The format change has yet to be officially confirmed; however, in the CS2 limited beta, the competitive games have changed the default setting from MR15 (15 rounds in each half) to MR12. The format change would ultimately lead to all Counter-Strike games being played as "first to 13 rounds" instead of first to 16.
The shift is quite a unique change that will see CS2 go back to the early days of CS 1.6 when first to 13 was the norm, before Counter-Strike: Global Offensive made games longer by introducing MR15.
Despite changing the maximum rounds, Valve has not made any changes to the in-game economy which would be interesting if the new format launched as it is. However, it's important to note that CS2 is still in a limited beta phase and that the change is likely a small trial, although it doesn't mean that change from MR15 to MR12 is off the table.
Going to MR12 would mimic Valorant, where all matches are played until one team wins 13 rounds, and while shortening the game sounds like a good move, it might not suit the competitive scene.
The most notable result of changing to shorter games and 12-round halves is the increased importance of pistol rounds, which often guarantees that a team wins the next two rounds due to having a huge advantage in the first full buy round. In some cases, winning the pistol round sees a team win at least three more rounds – which is significantly more impactful in an MR12 format.
MR12 format was already tested in 2020 during a Gamers Without Borders tournament. After the charity event, the players shared mixed feelings about the format, some complaining that MR12, in comparison to MR15, gives you fewer opportunities to outplay the opponent and fewer chances to come back into the game if you start poorly.
On the other hand, Gamers Without Borders saw teams lose pistol rounds and complete a comeback, which begs the question of whether pistol rounds in MR12 are really as impactful as they may seem.
At this point, there is no confirmation on whether CS2 will really return to the MR12 format and how it will impact the professional scene. We don't even know when Counter-Strike 2 will release. But considering Valve promised the game to go live in the summer of 2023, the time to launch and unveil whether MR12 is coming to the game is slowly running out.