NEOFRAG Leaves Into The Breach
Adam "NEOFRAG" Zouhar exits Into the Breach's CS:GO team after just three weeks.
Termination of his contract is related to performance
Into the Breach have yet to name a replacement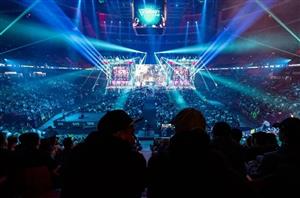 PGL Counter-Strike Major (Getty Images)
On Thursday, August 3, Into the Breach announced that Adam "NEOFRAG" Zouhar is no longer a part of the Counter-Strike: Global Offensive starting roster. The announcement comes less than three weeks after the British esports team signed the Czech rifler as a part of a new CS project.
Into the Breach confirmed the departure of NEOFRAG, stating that the association between the two parties has been terminated with "immediate effect", leaving the British esports organisation with just four active members of its CS:GO team.
NEOFRAG has been with Into the Breach for just three weeks, joining the team alongside Aurimas "Bymas" Pipiras on July 12, when the duo paired with Thomas "Thomas" Utting, Karol "rallen" Rodowicz, and Joey "CRUC1AL" Steusel as the final two missing pieces of ITB's new roster.
NEOFRAG joined Into the Breach as a replacement for Cai "CYPHER" Watson, who has been linked with a move to TSM.
"NEOFRAG has been removed from our active roster, and all professional associations terminated with immediate effect," read the announcement.
"Our decision is based on comments and perspectives displayed which do not align with our attitudes regarding inclusivity and equality. The expectations of our organisation are clear – and we hold everyone to the same standard. There have been unequivocal breaches of our morals and company standards we can't overlook."
While the 22-year-old's departure happened very quickly after his arrival, it makes sense considering Into the Breach's lack of success with its new project. However, as explained by the organisation, NEOFRAG's departure is not performance-based but rather a result of "comments and perspectives displayed".
The team has not offered any detailed explanation of what this means, but the team owner has explained that it was due to NEOFRAG's recent behaviour.
NEOFRAG has played just five games with Into the Breach, including two series at the Intel Extreme Masters Cologne 2023, where Into the Breach crashed out in last place. ITB failed to find much success at the IEM Cologne 2023, losing their first two series against Ninjas in Pyjamas (0-2) and The MongolZ (0-2).
Before IEM Cologne 2023, NEOFRAG attended the Gamers8 qualifying event and finished 17th-32nd. Into the Breach also failed to qualify for the ESL Pro League Season 18 with a fifth-eighth-place finish in the European Conference.
At IEM Cologne 2023 Play-In, NEOFRAG averaged a 0.82 performance rating, the third-lowest in his team and the seventh-lowest rating out of all players in the Play-Ins. Over the five games played for ITB, NEOFRAG has averaged a 0.84 performance rating, which is far from good; however, as noted by the team, his individual performances had nothing to do with the Czech rifler's departure.
ITB has yet to announce who'll replace the Chech player.