Top 5 Best Counter-Strike Betting Sites - Where To Bet Online
Counter-Strike is one of the most popular online video games in the world and a major name in the esports world. Alongside League of Legends and Dota 2, Counter-Strike is one of the "Big Three" esports games in the esports industry and is a major game in the online esports betting scene.
As one of the first esports titles to be offered by esports bookmakers, Counter-Strike betting markets are nowadays available on nearly all betting sites, including traditional sportsbooks, esports bookmakers, and crypto bookies. And while some betting sites are much better for betting on Counter-Strike than others, it's not hard to find a good bookmaker to place your CS bets.
This article will take a closer look at the top five legal and safe Counter-Strike betting sites every esports bettor should know about, starting with a well-known name in the online gambling world, Stake.com.
Stake
Stake is a legit and safe online betting site
and one of the top choices for those who want to bet on Counter-Strike. Stake is not primarily an esports bookmaker but does an
excellent job with its esports coverage, especially for Counter-Strike.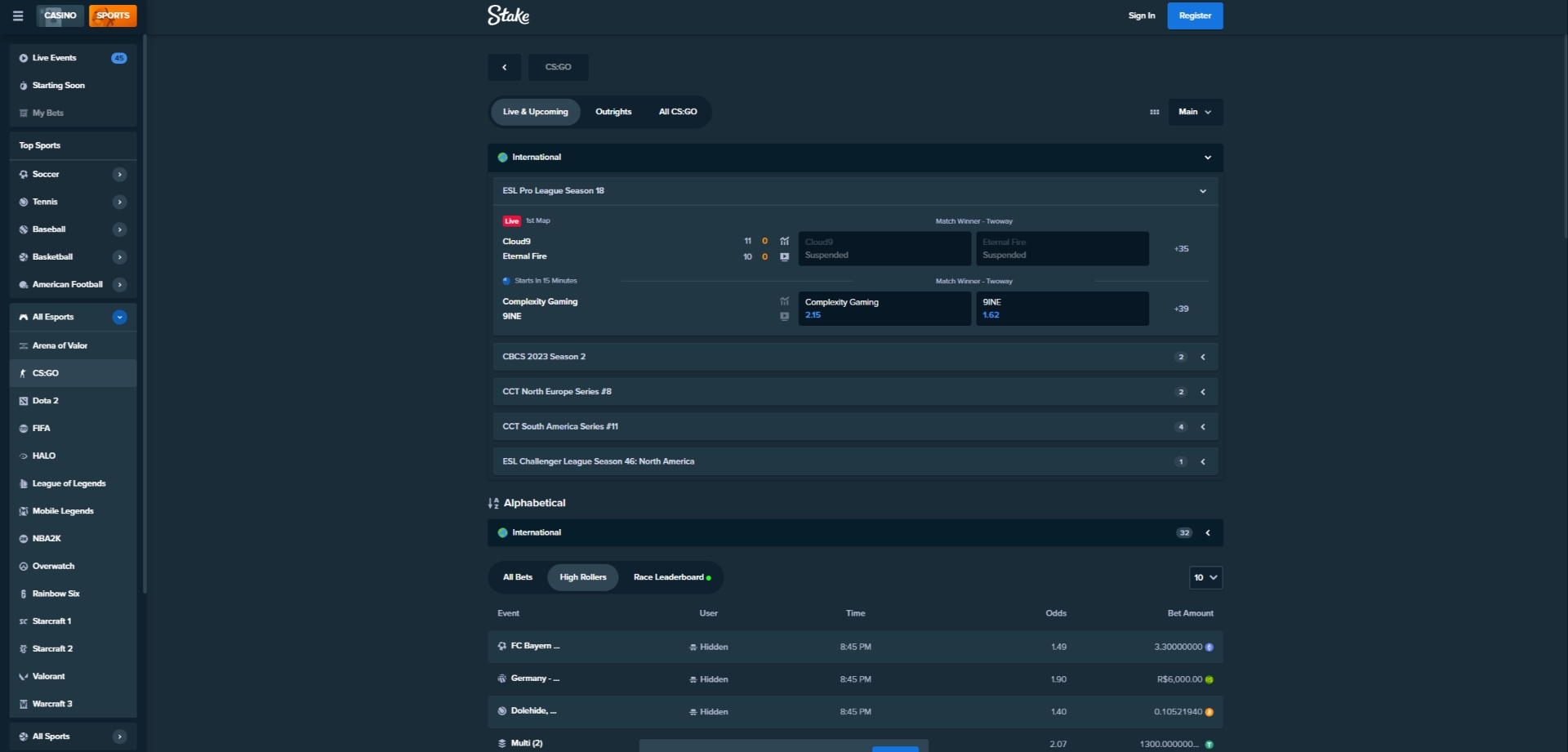 For a traditional sportsbook, Stake's esports betting market offer is very solid, as this betting site covers all major Counter-Strike tournaments, and there is no shortage of markets on lesser events either. But besides Stake's solid market offer, what truly makes this bookmaker stand out is its betting odds.

Compared to other Counter-Strike betting sites, Stake has some of the best prices, offering betting odds that are often better than on any other bookmaker. That is especially on the outright betting markets.
As you would expect from a top Counter-Strike betting site, Stake also offers in-play betting besides outright and pre-match markets. In addition, Stake comes with live streams of all Counter-Strike games, including lesser tournaments – as long as there is an official stream available on Twitch.
Betting bonuses and promotions on Stake are another big plus. Stake has a great variety of bonuses and promotions available throughout the year and even a VIP Club; however, it's worth noting that esports-specific promotions are a bit more scarce.
This isn't that big of an issue for Counter-Strike bettors since most of the promotions on Stake are generic (cashback, reload bonuses...) and can be used by esports bettors.
Stake is an excellent betting site for anyone who wants to bet on Counter-Strike. It offers highly competitive betting odds, has excellent market coverage and solid in-play markets. The only downside is that esports promotions aren't very common, but even that is more of a minor inconvenience than anything else.
Gamdom
Gamdom
joins our list of excellent Counter-Strike bookmakers as a
legit crypto betting site with an established name in the online gambling industry
. Even though Gamdom is primarily a crypto casino, it does an excellent job with its sports and esports betting offer, especially when we talk about betting on Counter-Strike.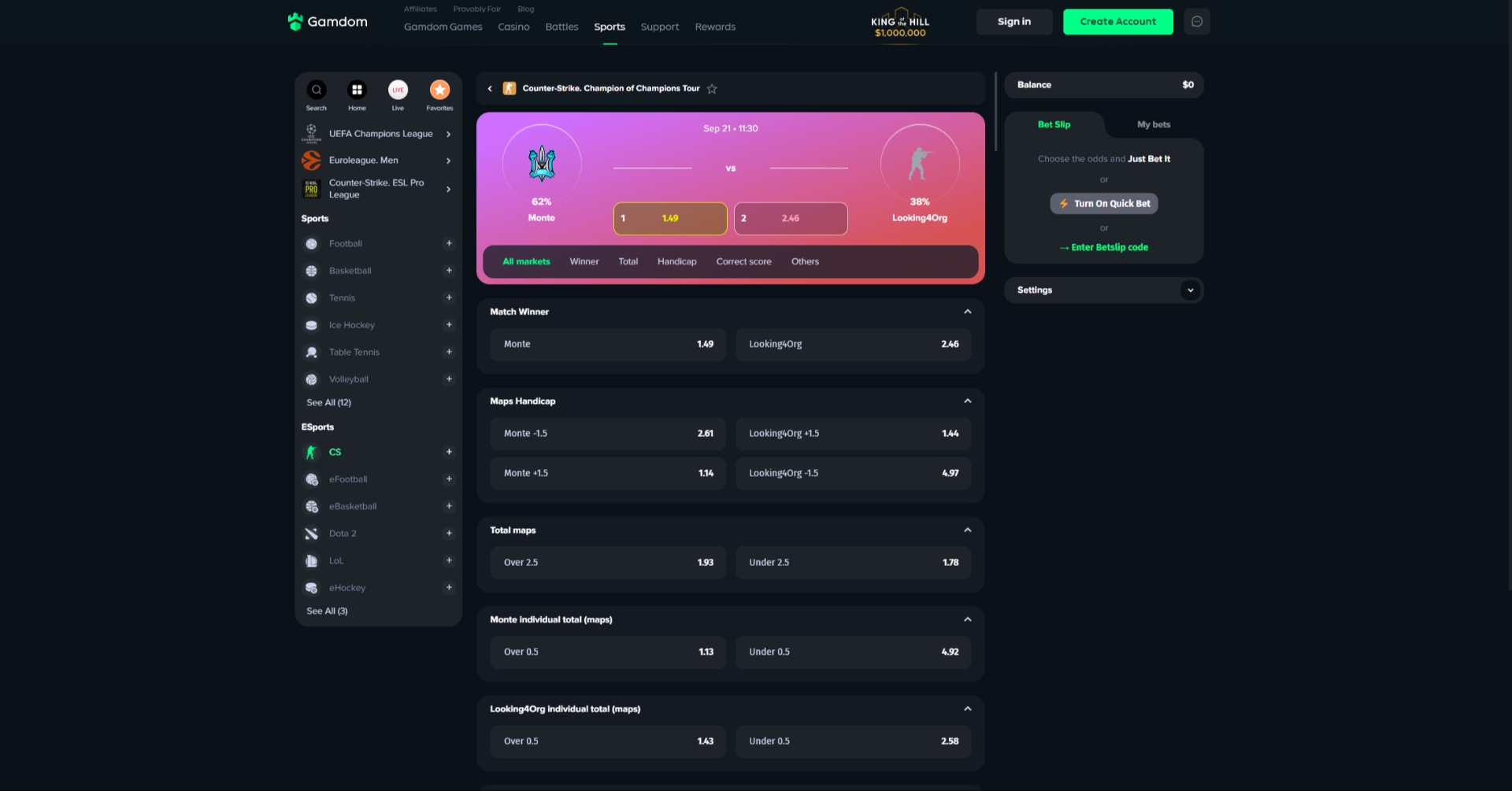 On Gamdom, bettors can find Counter-Strike betting markets on all notable tournaments, from Majors to A-Tier, and even several regional events. The market offer is quite solid as well, including moneyline, handicaps, map betting, and even a handful of proposition bets.
The actual number of available bets will vary, with more important events receiving more attention. However, that's more of an industry standard as it's often hard to find generous market offers on lesser Counter-Strike tournaments.
Gamdom also has live betting available for Counter-Strike, with a surprisingly good selection of in-play bets and a stable livestream. So whether you're betting pre-match or in-play, Gamdom can deliver.
Overall, Gamdom does a lot of things right and is a solid choice for anyone who wants to bet on Counter-Strike. Like Stake, it doesn't have as many esports-specific bonuses and promotions; however, esports bettors can still benefit from Gamdom's VIP club, which offers various bonuses even Counter-Strike punters will find a lot of value in.
DuelBits
DuelBits is a legit online betting site which focuses a lot on its online casinos, but that doesn't take away from its sportsbook. On DuelBits, you can bet on anything, from football, ice hockey, volleyball, and most esports titles, including Counter-Strike.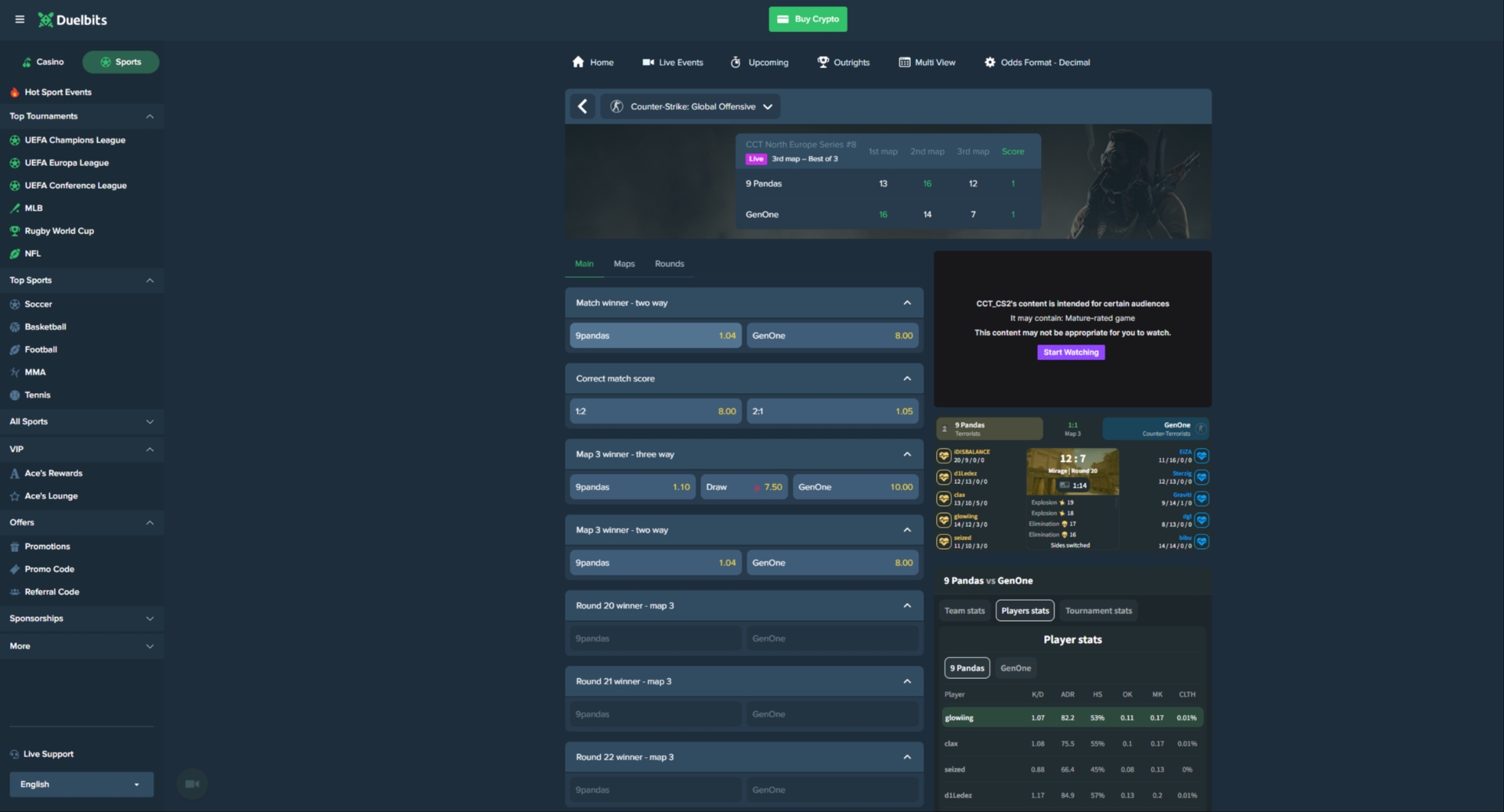 Out of all esports betting markets on
DuelBits
, Counter-Strike receives the most attention, which is evident in the
sheer number of CS betting markets available
on this betting site. So, suffice it to say that
Counter-Strike punters won't be deprived of options when deciding which match or tournament they want to bet on.
The betting odds on DuelBits are also highly competitive, which is a big reason why it's so popular among Counter-Strike bettors, and the great coverage of in-play games with live streaming options is just a plus to what is already a superb Counter-Strike bookmaker.
All in all, it's hard to find a good reason not to use DuelBits for Counter-Strike betting needs. It has great odds and excellent market coverage, and it accepts in-play bets on CS matches. A complete package and a solid choice for Counter-Strike bettors.
1xBet
1xBet is one of the biggest names in the online betting industry as a major sportsbook which has been around for nearly two decades. However, while 1xbet is primarily a sportsbook, it does a superb job with its esports offer.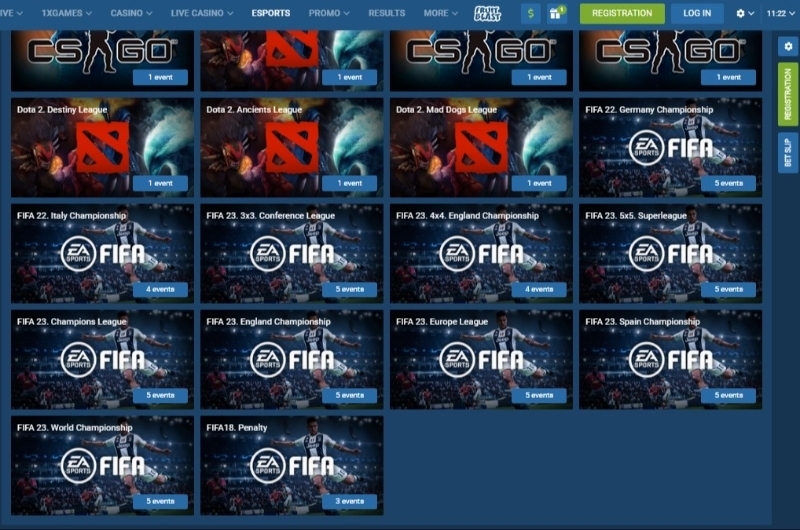 On 1xBet, you can bet on any esports title imaginable, including Counter-Strike, which is extremely well covered. 1xBet has seemingly soon realised the popularity of CS betting and did a fine job of creating a great platform for Counter-Strike bettors to use.
Besides solid CS odds,
1xBet also has superb market coverage
, accepting bets on any tournament, including C-Tier regional events. As you would expect from a good betting site, 1xbet also comes with
in-play betting markets, live streams and a generous offer of betting bonuses.
The selection of bonuses and promotions occasionally includes esports bonuses, granted those are mainly available during important events such as Counter-Strike Majors. Besides that, Counter-Strike bettors can also take advantage of other generic bonuses available on 1xbet, such as reload bonuses, cashback offers, enhanced odds, and more.
Those after a reliable and well-known bookmaker who can offer a solid Counter-Strike betting experience can't go wrong by choosing 1xbet.
BC.Game
We conclude our list of the top five Counter-Strike betting sites with BC.Game, is another crypto gambling site which stands out from the rest as an excellent choice for betting on Counter-Strike. Even though BC.Game is primarily an online casino it does a good job with its sportsbook.
Besides other esports titles such as League of Legends, Dota 2, Rainbow Six Siege, and others,
BC.Game also cover Counter-Strike and does so surprisingly well
, accepting bets on all bigger and many lesser tournaments and matches.
It's worth noting that while bigger events and games often come with very rich markets, lesser games are usually limited to only moneyline, handicaps, and over/under bets. This, however, is not a major problem, considering there are very few sportsbooks that offer many markets on lesser events.
Bonuses and promotions on BC.Game are limited to generic offers, so you won't find any esports-specific promotions. This is a bit disappointing, but you Counter-Strike bettors can find some value even in the generic promotions.
BC.Game is a fine choice for anyone looking for a solid Counter-Strike betting site. It has decent betting odds and solid market coverage, and it accepts in-play bets on all CS matches – and you can't ask for more.
This concludes our list of the top five best Counter-Strike betting sites that are legit, safe, and worth checking out. Before you sign up with any betting site, make sure to check for welcome bonuses and remember to gamble responsibly.