TSM Returns To Counter-Strike – For The First Time Since 2016
TSM has announced its return to competitive Counter-Strike after an absence since 2016.
The new roster includes seasoned players like "JACKZ" and "valde", as well as new talents "CYPHER" and "MoDo".
Rémy 'XTQZZZ' Quoniam was announced as the coach of the new team.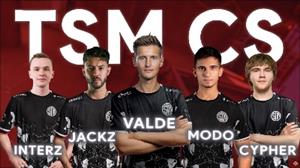 TSM Counter-Strike roster
(credit: via Twitter (@TSM))
North American esports organisation TSM announced its return to competitive Counter-Strike on Tuesday, August 29, after last housing a team in 2016. TSM's return was already rumoured earlier this year but wasn't confirmed until this week when TSM revealed its new roster.
On Tuesday, August 29, TSM unveiled the signing of a new Counter-Strike: Global Offensive roster, featuring former G2 Esports rifler Audric "JACKZ" Jug, Timofey "interz" Yakushin, Cai "CYPHER" Watson, Mădălin-Andrei "MoDo" Mirea, and Valdemar "valde" Vangså, who will take over as the in-game leader.
The new-look roster features a mix of experienced CS veterans, namely JACKZ, who has been competing professionally since 2009 and valde, who has been involved in the scene since 2016, as well as young talent in 20-year-old CYPHER and MoDo.
CYPHER started his Counter-Strike career in 2019 and was most recently a part of Into the Breach, which he helped reach the quarterfinals at BLAST.tv Paris Major 2023 in May. Of the new additions, MoDo is the least experienced, having started his career in February 2021 and has since played for OneTap Gaming and Nexus Gaming in some lesser events.
The former Cloud9 support, interz joins TSM as one of the most successful players of the new roster. The 23-year-old Russian has spent most of his career with Gambit Esports (later Cloud9), with whom he achieved a lot over the last three years.
Most notably, interz helped Gambit place second at BLAST Premier: World Final 2021, won V4 Future Sports Festival - Budapest 2021 and BLAST Premier: Spring Finals 2021 and reached the semifinals of PGL Major Stockholm.
In his last two competitive endeavours with Cloud9, interz placed top four at ESL Pro League Season 16 and made the quarterfinals of Intel Extreme Masters Rio Major 2022 before he got benched from Cloud9 in November 2022.
TSM's re-entry into the Counter-Strike scene, although big news, hardly comes as a shock to esports fans, as it was previously rumoured that TSM is looking to return to Valve's first-person shooter this year.
TSM were previously expected to debut their new roster at CCT Online Finals 2 but ended up pulling out of the tournament due to the dispute between the organisation and coach Rémy "XTQZZZ" Quoniam, who was supposedly behind building a new roster.
The alleged disputes led XTQZZZ to exit the project, but the two parties have seemingly found an agreement, seeing how the French coach was announced as a part of the new team. By joining TSM, XTQZZZ now reunites with JACKZ for the first time since October 2022, when the two were a part of G2 Esports.
TSM was last involved in the Counter-Strike esports scene in 2016 with a roster that featured some of the current biggest names in the industry, including the current FaZe Clan superstar Russel "Twistzz" Van Dulken, Hunter "SicK" Mims and Shahzeeb "ShahZaM" Khan.
Before 2016, TSM also fielded a star-studded all-Danish roster of Peter "dupreeh" Rasmussen, Andreas "Xyp9x" Højsleth, Nicolai "dev1ce" Reedtz, René "cajunb" Borg, and Finn "karrigan" Andersen.
However, the disagreement between TSM and the players led to the departure of the Danish squad, who would later form Astralis – the most successful CS:GO team in history.
TSM New Roster:
Audric "JACKZ" Jug
Timofey "interz" Yakushin
Cai "CYPHER" Watson
Mădălin-Andrei "MoDo" Mirea
Valdemar "valde" Vangså
Rémy "XTQZZZ" Quoniam – coach
Lambert "Lambert" Prigent – assistant coach