Valve Is Accepting Proposals For Counter-Strike 2 Majors in 2025 and 2026
Valve is looking for tournament organisers to host Counter-Strike 2 Majors in 2025 and 2026
Any TO can apply but has to follow strict rules
The upcoming CS2 Majors will have slightly changed dates and will take place before the winter and summer breaks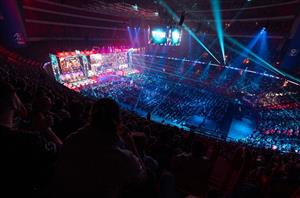 PGL Counter-Strike Major (Getty Images)
On Wednesday, July 19, Valve sent out a request for esports tournament organisers to send their proposals for the upcoming Counter-Strike 2 Majors in 2025 and 2026. The game developer also revealed that the CS2 Major dates were moved one month later, now happening before the summer and winter breaks.
The Counter-Strike esport scene will see a significant shift later this year when we transition from Counter-Strike: Global Offensive to Counter-Strike 2, and as a part of the process, of moving to a new game, Valve also started to plan out CS2 Majors in 2025 and 2026.
Earlier this year, Valve revealed that the first Counter-Strike 2 Major will take place in Denmark as the PGL Major Copenhagen 2024. The Tournament is set for March 17-31, 2024, with a $1,250,000 prize pool and 24 teams competing for the coveted trophy.
However, while the next Major is set in stone, there are no plans on where the succeeding Majors will take place. But that could change soon.
On Wednesday, Valve requested all tournament organisers who wish to host a CS2 Major to bid on the coming Majors in 2025 and 2026. As revealed, there will be two Majors per year, as has been the case since 2016.
The only notable change in the future is the dates of the Majors. Going forward, the CS2 Majors will take place at the end of the season, before the summer and winter breaks, in June and December rather than May and November. Valve also confirmed the exact dates for the 2025 and 2026 Majors:
2025
2026
June 8-21
November 30 – December 13
The tournament organisers who get picked to host the majors will also have to organise the tournament qualifiers through the RMRs – barring any changes in the format. Valve promised to assist in hosting the major with financial backing, which will cover tournament prize money, accommodation and team travel.
TOs can be awarded more than one Major if they submit multiple bids, but there are rules they should follow.
Valve will prioritise picking TOs who have previously held a successful event and those who can offer a backup venue if travel restrictions or other complications make the first-picked location inaccessible.
As a part of the bid, the tournament organisers have to provide all the details of how they plan to host the Major, which can include new, untested features, but those will not be weight heavily, especially untested additions.
The bid must also include the details of how and where TO plans to stream the CS2 Major, including the selected streaming platforms, language availability, and schedule.
The selection process will likely take at least a few months and potentially won't be released until 2024. Still, there's plenty of time for Valve to select a suitable TO to host the 2025 and 2026 CS2 Majors.