Dota 2 Riyadh Masters 2023 Tournament Guide - Preview and Predictions
The Riyadh Masters 2023 will present Esports bettors with a chance to wager on the biggest Dota 2 tournament.
The best players and teams in Dota 2 will be competing for the $15,000,000 prize pool as punters bet on the action.
Wager on a vast selection of Esports betting markets for games like Dota 2 at Stake.com.
The Dota 2 Riyadh Masters, one of the most prestigious events in Esports, takes place from July 17-30 with a big matches in store.
We've got all the information about the tournament including dates, formats, prize pools, teams and where to bet on the action live.
Dota 2 Riyadh Masters 2023
Esports, and particularly Dota 2, fans are soon to be in for a treat, with the Riyadh Masters just around the corner.
This event will see millions of dollars in prize money handed to the top players and teams, with Esports bettors being able to wager on the action as they watch it live with platforms like
Stake.com
.
With the event beginning in the very near future, it's important that you make sure you've got a Stake account registered, which will allow you to enjoy one of the most thrilling betting experiences of the modern age.
To get the most recent welcome bonus - which you can use to finance bets on events like the Riyadh Masters Dota 2 tournament - use the
promo code NEWBONUS
.
Riyadh Masters 2023 Promotions
With this being such a big event in the world of Esports, promotions have already started to appear on Stake.
Loser Paid Out For More Kills
19th of July - 30th of July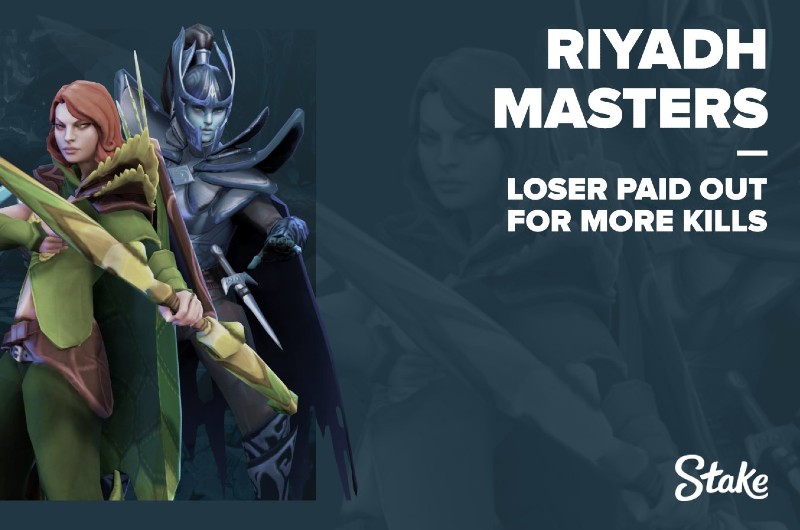 This Stake promotion will make sure even some of the losing bets will be paid out, as long as the criteria of the losing side managing to secure more kills on the wagered map is met.
When Is Riyadh Masters 2023
The Riyadh Masters, which will of course be taking place in Saudi Arabia, will begin on Monday the 17th of July and conclude after the final on Sunday the 30th of July 2023.
Riyadh Masters 2023 Format
Eight teams will begin in the group stage, while the other 12 will compete in a play-in round:
six-team split into two groups that play each other once.
Each group's top two teams progress to the group stage.
Four group stage places are at stake in the deciding stage between the teams placed third through sixth.
The group stages will come next, during which:
Eight teams each in two groups play each other once.
The top four teams from each group progress to the upper bracket of the playoffs.
The fifth and sixth-placed teams advance to the lower bracket.
Following that, the following 12 clubs will compete in the playoffs:
12 teams in a double-elimination format.
Except for the championship, every match is a best-of-three affair.
Riyadh Masters 2023 Prize Pool
This tournament will offer a staggering $15,000,000 prize pool, in which every single team that qualifies will take home a portion of.
As you'd expect, the winning team will take home the largest portion, with the rest of the money distributed proportionately to the rest of the teams based on their final positions.
Here's how much money will be offered to each position on the table:
1st place - $5,000,000
2nd place - $2,500,000
3rd place - $1,700,000
4th place - $1,200,000
5th-6th place - $800,000
7th-8th place - $500,000
9th-12th place - $300,000
13th-14th place - $200,000
15th-16th place - $100,000
17th-20th place - $50,000
Riyadh Masters 2023 Teams
In total, there will be 20 teams taking part in this tournament, who will travel to Saudi from all over the world. Those with a keen eye for Esports and Dota 2, in particular, will be sure to recognise the teams and their rosters, which are as follows:
BetBoom Team - gpk~, Nightfall, Pure~, Save- and TORONTOTOKYO.
Evil Geniuses - Chris Luck, Matthew, Panda, Pakazs and Whisper.
Gaimin Gladiators - Ace, dyrachyo, Seleri, tOfu and Quinn.
PSG.LGD - niu, NothingToSay, planet, shiro and y'.
Quest Esports - ATF, Kaori, No!ob, OmaR and TA2000.
Shopify Rebellion - Abed, Arteezy, Cr1t-, Fly and SabeRLight-
Spirit, Team - Collapse, Larl, Miposhka, Mira and Yatoro.
Talon Esports - 23savage, Mikoto, Oli~, Jabz and Q.
Tundra Esports - 33, Nine, Saksa, skiter and Sneyking.
The remaining 11 teams have yet to be confirmed and will be determined by the ESL Pro Tour Ranking.
Betting On The Riyadh Masters 2023
Esports is still the fastest-growing sector within the gambling industry but many betting sites have yet to jump on the lucrative bandwagon.
One betting site that has, though, and is offering a great range of markets for a variety of popular Esports, including Dota 2, is Stake.com.
Stake allows customers to bet on Esports before and during events, while simultaneously being able to watch the action unfold. This makes for the ultimate Esports betting experience.
Riyadh Masters 2023 FAQs
When Is The Dota 2 Riyadh Masters 2023?
The Dota 2 Riyadh Masters tournament will take place between the 17th and 30th of July 2023.
Does Stake Offer Esports Markets?
Stake offers a broad selection of Esports markets for all of the top games including Dota 2, CSGO, Kings of Glory, League of Legends, Overwatch, Rocket League, Starcraft 2 and Valorant.
Is There A Stake Promo Code & What Will It Get Me?
Using promo code NEWBONUS while creating your first account with Stake will grant you a 200% first deposit bonus of up to $1,000.