Top 5 Best Dota 2 Betting Sites - Where To Bet Online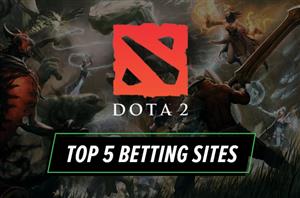 Dota 2 is a hugely popular Multiplayer Online Battle Arena (MOBA) game and one of the biggest names in the esports industry. Played by millions of people worldwide, Dota 2 also boasts a massive esports scene, which is one of the largest in the industry – besides League of Legends and Counter-Strike.
Stake

1xBet

DuelBits

Gamdom

BC.Game
Not only is Dota 2 a very popular game, but it's also one of the biggest names in the esports betting world, which explains why it's so easy to find Dota 2 betting markets on a plethora of bookmakers. However, while nearly all online betting sites offer Dota 2 betting, there are only a handful that can be considered the best.
We have tested and reviewed dozens of bookmakers and compiled a list of the best Dota 2 betting sites that can offer a safe and enjoyable betting experience.
Stake
Stake is a legit and safe online crypto bookmaker and an excellent choice for Dota 2 bettors. Although not exclusively an esports betting site, Stake does a surprisingly good job with its esports market coverage, particularly for Dota 2.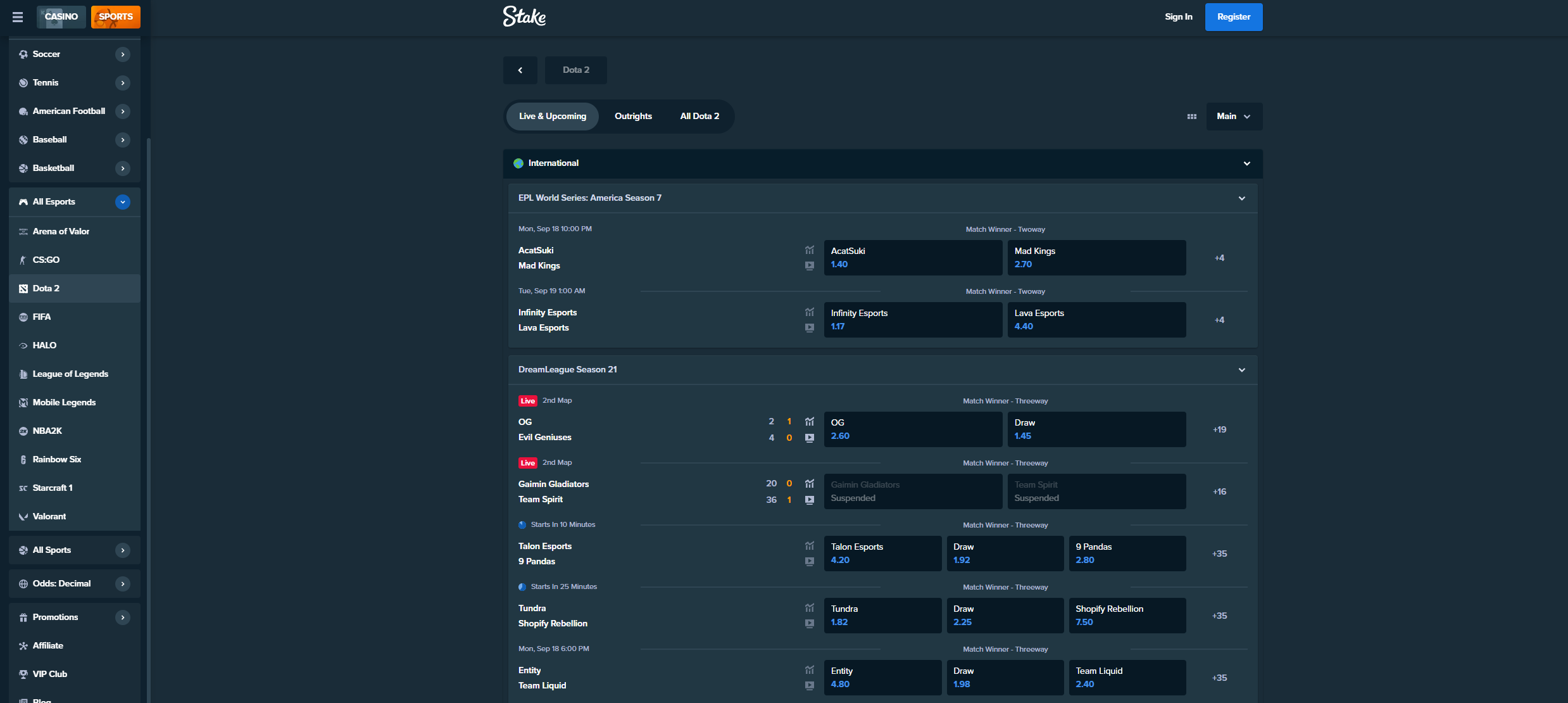 On
Stake
, you can find
Dota 2 betting markets on all Dota Pro Circuit (DPC) games
, including Division II, lesser tournaments and all bigger events such as Majors and The International. The offered
Dota 2 betting odds are very competitive compared to other bookmakers
, and there are plenty of bet types available in pre-match and in-play betting.
Stake's in-play betting on Dota 2 games is great, with a good offer of markets, and you'll often find official live streams to help bettors keep up with the action. Outright betting markets are also available and often opened way ahead of time, which is a huge plus for any Dota 2 punters.
Stake doesn't shy away from offering generous bonuses and promotions either, but it's worth noting that it's rare to find any esports-exclusive offers on this bookmaker. That isn't a huge problem, however, as most promotions are generic (reload bonuses, weekly raffles) and can be taken advantage of by esports bettors.
The VIP Club, in particular, is great for esports punters, offering various goodies, including monthly bonuses, Rakeback, daily bonuses, reload bonuses and more.
All in all, Stake is an excellent choice for anyone looking for a reliable crypto bookmaker to bet on Dota 2. It does everything you could ever wish for in a great Dota 2 betting site and more, earning our seal of approval as one of the top choices for esports bettors.
1xBet
1xBet is one of the most recognisable names in the betting industry
and one of the biggest sportsbooks in the world. 1xbet is not an esports betting site but rather a traditional sportsbook which also offers esports betting markets, but this doesn't take away from its
great coverage of Dota 2
.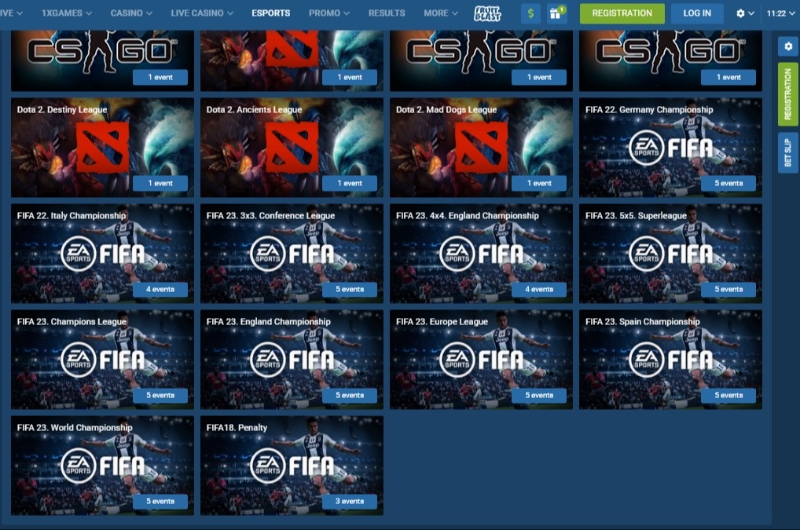 Don't let 1xBet's status as a traditional sportsbook fool you. It does an exceptional job offering Dota 2 betting markets, covering all Dota 2 tournaments, including Majors, international events, all DPC Tours and even some lesser competitions.
Even though the second and third-division events aren't getting as much attention and don't have as large of an offer of betting markets, the coverage of A- and S-Tier events is as good as it can get. Besides the moneyline and handicap markets, 1xBet offers map betting and many proposition bets, allowing Dota 2 bettors to wager however they wish. In-play wagering on Dota 2 is also available, with live streams and a good offer of in-play bets.
1xBet does a lot of things right, and it will occasionally have esports-specific promotions and bonuses, granted those are typically only available during major Dota 2 tournaments. Nevertheless, Dota 2 bettors can take advantage of many other bonuses available on the site, including reload bonuses and the welcome bonus.
1xBet is a prime example that you don't need to find an esports bookmaker to bet on esports, and while it may not seem like it from afar, 1xBet is an excellent choice for anyone looking for a betting site to bet on Dota 2.
DuelBits
Duelbits joins our list of great Dota 2 bookmakers as a legit, safe, and world-renowned crypto gambling site. Although first and foremost an online casino, Duelbits has done an excellent job with its sports and esports betting offer, covering a large amount of betting markets.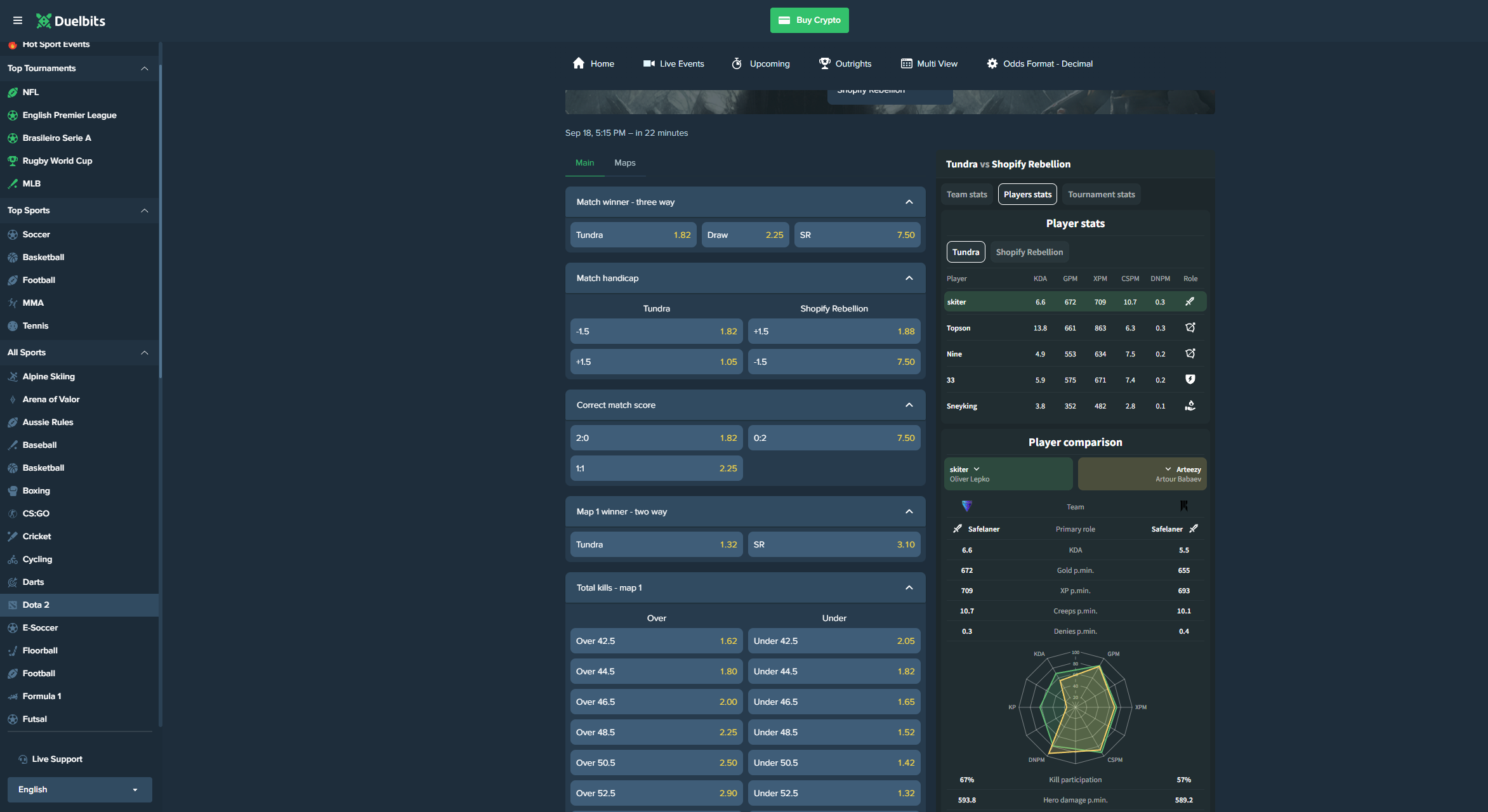 Esports bettors will be happy to learn that
DuelBits
has a superb offer of Dota 2 betting markets, covering all tournaments and leagues imaginable. Besides the
Dota Pro Circuit (DPC) events
, Duelbits also accepts wagers on
lesser tournaments, all international events, and anything in between.
The number of bets available on lesser games is not as good as on bigger tournaments, but that's not exclusive to DuelBits, but rather something bettors can expect to see on any esports betting sites. On a more positive note, DuelBits has very solid Dota 2 betting odds, often above the market average.
The list of positives doesn't stop there. DuelBits has very generous promotions and bonuses, as well as a VIP Club called Ace's Lounge. It works on a loyalty system, where the more active gamblers get to collect better rewards, which can range from rakebacks to reload bonuses and more.
Duelbits is a safe, legit, and very good bookmaker, perfect for anyone who wants to start betting on Dota 2. It is a crypto website, which might not be for everyone; however, DuelBits has an option to buy crypto straight from the website, which makes it more accessible even to those who don't primarily bet with crypto.
Gamdom
Gamdom is a legit crypto betting and gambling site
and a hidden gem for esports betting. Even though Gamdom seems to focus primarily on offering online casino games, it does an
excellent job with its sportsbook,
which has a special section dedicated to esports betting.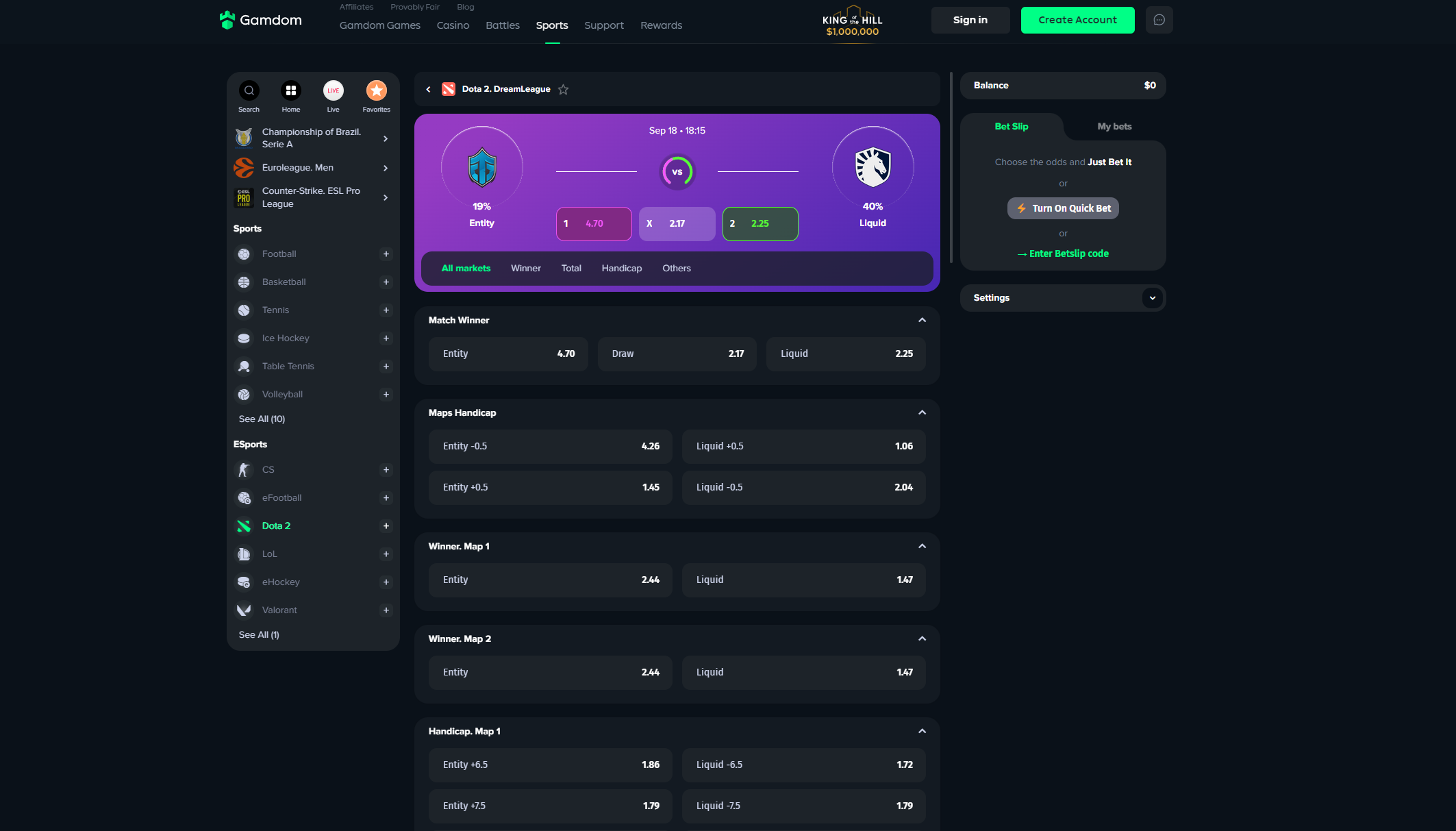 Besides accepting bets on other major esports titles, Gamdom also has excellent coverage of Dota 2 betting markets, accepting bets on all international tournaments, bigger and lesser tournaments, and all Dota Pro Circuit (DPC) matches, which essentially covers all of Dota 2 competitive scene.
The offered betting odds are very generous compared to other Dota 2 betting sites, and it even has special head-to-head markets not found on other bookmakers. It's worth noting that minor leagues or lower-tier games aren't covered as well, and most of the time, only include moneyline, handicaps, and totals. On the other side, bigger matches are covered extremely well with all betting markets you could imagine, from correct score to map betting, handicaps, and more.
One downside to Gamdom is that it doesn't have as many bonuses or promotions and rarely anything esports-exclusive. Instead, Gamdom works on a loyalty (VIP) model and hands out various bonuses and promotions based on the user's level.
This isn't necessarily bad, but it requires Dota 2 punters to continue betting to claim bonuses.
Overall, Gamdom is a solid Dota 2 betting site, and it does many things right. The lack of Dota 2 bonuses is a bit of a letdown, but Gamdom more than makes up for it with its betting odds and excellent market coverage.
BC.Game
Last but not least, we have
BC.Game, is a well-known betting site and an excellent choice for anyone looking for a solid bookmaker for betting on Dota 2
. Even though BC.Game is not primarily an esports bookmaker, but it doesn't disappoint with its esports coverage, especially not when talking about Dota 2.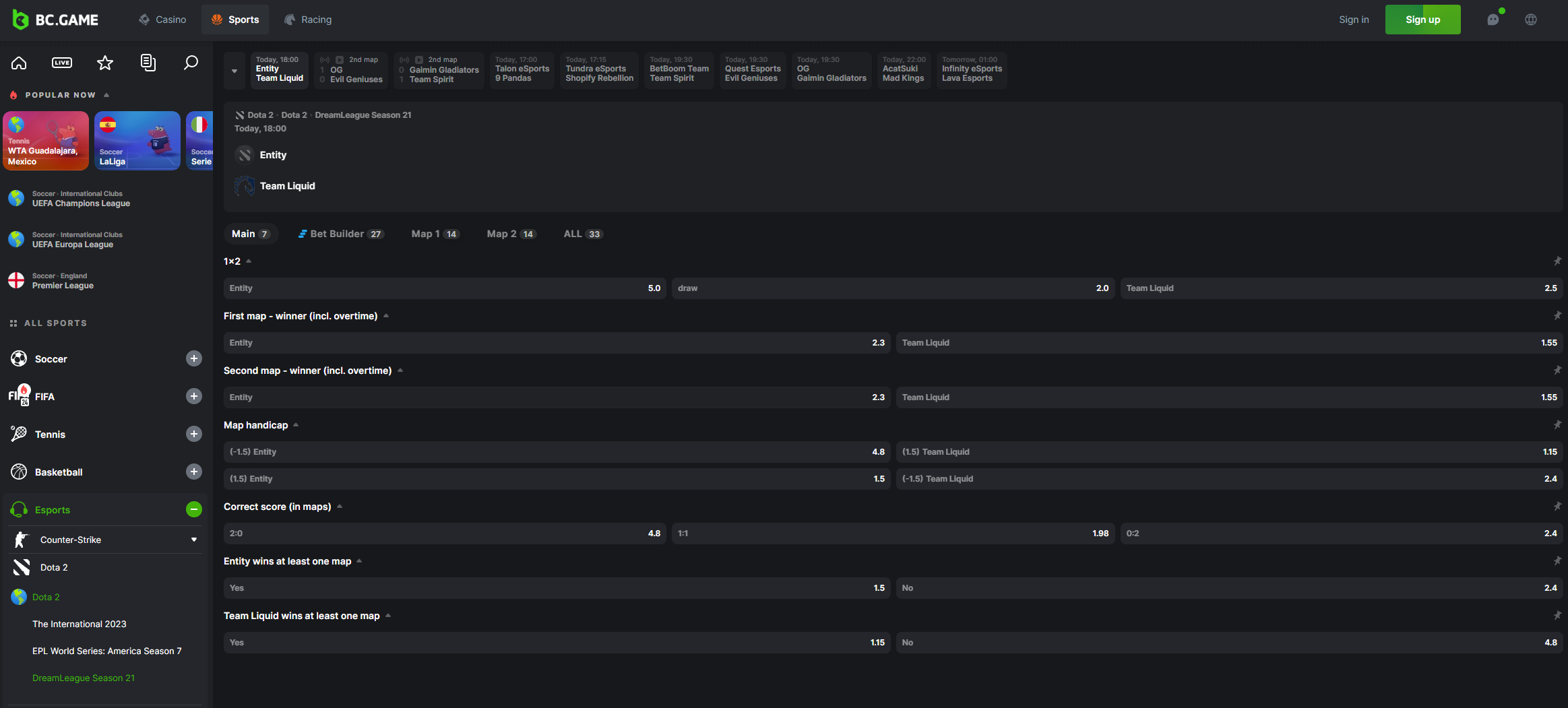 Like all other solid Dota 2 betting sites, BC.Game accepts bets on all major Dota 2 events, including the international tournament and the Dota Pro Circuit (DPC) matches. Lesser (tier-two and three) leagues also get some attention, but perhaps a little bit less than on other betting sites.
Nevertheless, BC.Game is a great choice for Dota 2 bettors primarily due to its solid betting odds, which are often better than on other bookmakers. BC.Game also does a fine job with its betting markets, offering a wide range of proposition bets, map betting, handicap bets, and anything in between, ensuring that you can wager on Dota 2 however you like.
Similar to other betting sites on our list, BC.Game doesn't have esports-exclusive betting bonuses or promotions, but rather more generic bonuses and a VIP club.
BC.Game is a decent choice for any crypto bettors who want a reliable bookmaker to bet on Dota 2, and while there are other options, generous odds are found on BC.Game alone is enough to consider checking out this gambling site.
This concludes our list of the top five Dota 2 betting sites, which are safe, legit, and have everything you could ever wish for in a great Dota 2 bookmaker. Before registering with any of the bookmakers, make sure to check for welcome bonuses and remember to gamble responsibly, and never wager with more than you can afford to lose.