Karmine Corp Announced They're Close To Joining The LEC
Karmine Corp are close to joining LEC for the 2024 season
KC was previously rumoured to join LEC
The news has yet to be officially confirmed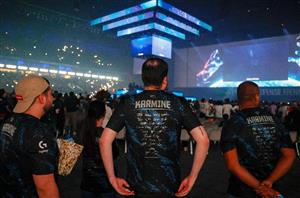 During the KCX3: Karmine Corp vs The World esports event on Saturday, September 16, French esports organisation Karmine Corp announced that it is very close to joining the League of Legends EMEA Championship for the 2024 season.
The KCX3 event, organised by Karmine Corp this weekend, proved to be a massive success, with its total attendance reaching over 28,000, twice as many people that attended the LEC 2023 Season Finals. However, despite being nothing more than a showmatch, the massive popularity of the event isn't as surprising.
Karmine Corp are a hugely popular French esports organisation which fields teams in various esports, including League of Legends. Its LoL team competes in La Ligue Française (LFL), is widely known as the best in the region, and has regularly been rumoured to be on the verge of joining Europe's top LoL league – the LEC.
This until this weekend was nothing more than rumours, but it seems like the KC LoL squad will finally get its chance to compete at the highest level. Aside from announcing that KC is building its own arena, Arènes de l'Agora in Evry, the organisation also revealed that it is very close to joining the LEC.
The move would make a lot of sense, considering Karmine Corp are by far the most successful ERL team, having recently won its fourth EMEA Masters. But beyond the team's achievements, adding Karmine Corp to the LEC would make a lot of sense, largely due to the team's massive popularity.
Despite being a second-division team, Karmine Corp undeniably have one of the largest fanbases in Europe, which was very obvious this weekend when over 28,000 attended KC's showmatch event and even though LEC's viewership is not in a particularly bad spot, Riot would benefit from adding such a popular organisation to its top league.
As of now, nothing is confirmed yet, but Karmine Corp mentioned that confirmation should come sometime in October. If KC ends up joining the LEC, it would be a massive boost for the European LoL League and, ultimately, the whole LoL esports circuit.
On the other side, Karmine Corp joining the LEC will almost definitely mean that one of the current LEC teams would exit the competition. Which team that might be remains to be seen.