Korean LoL Star Player Banned From Play
Clid was banned from professional play due to sexual harassment allegations.
Allegations surfaced in June, resulting in an internal investigation by LoL Champions Korea
Clid's ban will last for 12 months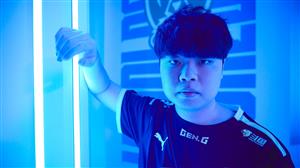 Kim "Clid" Tae-min
(credit: via Twitter (@lolesports))
As reported on Monday, September 4, League of Legends superstar jungler Kim "Clid" Tae-min got banned from pro play for 12 months. According to Korean journalists, the 24-year-old has been suspended from pro play due to sexual harassment allegations.
Former JD Gaming, T1, Gen.G, and Hanwha Life Esports jungler, Clid, will not be allowed to participate in competitive League of Legends for one year due to sexual harassment allegations. The news first appeared in June, when a woman came forward, accused Clid of sexual harassment, and provided screenshots of the incident on the Korean messaging app KakaoTalk.
Shortly after, another woman claimed that Clid behaved similarly towards her when she was still a minor. Due to the accusation, Clid got benched from Hanwha Life Esports and replaced by Jo "Grizzly" Seung-hoon; however, because of the severity of the allegations, the LCK Investigation Committee took action and reviewed the situation.
Although the allegations weren't confirmed at the time, the recent news revealed that Clid underwent a disciplinary review through an internal investigation by the LoL Champions Korea (LCK) Secretariat and has been found guilty and punished by a one-year ban from professional play.
As a result, Clid is not allowed to compete in the LCK or any other Riot event worldwide and will not be able to return to pro play until September 2024, meaning Clid is set to miss out on the entire 2024 LoL esports season.
Since Clid stepped down from Hanwha Life Esports' roster in June, his squad qualified for the LCK 2023 Summer Playoffs and finished in fourth place, missing out on the opportunity to lock in a direct invite to the LoL World Championship.
Hanwha Life Esports also attended the LCK 2023 Regional Finals, where they lost against KT Rolster (1-3) and Dplus KIA (1-3), ending the season without an invitation to LoL Worlds 2023.
Hanwha Life Esports has yet to release an official statement on the matter, nor has Clid commented on the situation, keeping his future in esports and with Hanwha Life Esports shrouded in mystery.