Larssen Signs A Four-Year Contract With KOI
Larssen extends his stay with KOI for four more years
KOI will likely look to rebuild its LoL roster around Larssen
The team has yet to reveal any additional roster changes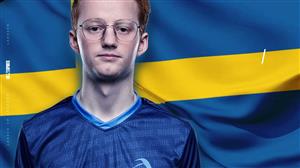 LoL Emil "Larssen" Larsson
(credit: via Twitter (@LoLUKN))
One of Europe's best mid laners, Emil "Larssen" Larsson, has signed a four-year extension with KOI's League of Legends team and is confirmed to remain with the team until 2027. The news come following KOI's disappointing run through the 2023 League of Legends EMEA Championship season, suggesting that KOI is possibly looking to rebuild around the 23-year-old.
According to recent reports, Larssen has decided to remain with KOI for at least four more years, extending his stay with the European esports organisation until 2027. Larssen joined Rogue in December 2018 and has since established himself as a key player of the European LoL roster and remained with the team after KOI acquired Rogue in 2022.
The 23-year-old started his LoL esports career in 2016 with MnM Gaming and has since played for Diabolus Esports and Ninjas in Pyjamas before he got picked up by Rogue as one of the inaugural members of the team.
In his first season with Rogue, Larssen helped the European esports team win Ultraliga Season 1 and, after joining the team's main roster, proved himself as a pillar of a new Rogue era, finishing his debut split in the LEC in fourth place.
Over the next four seasons spent with Rogue (later KOI), Larssen has won just one LEC trophy in LEC Summer 2022 and has qualified for LoL World Championship in three consecutive years (2020-2022). In his last appearance at LoL Worlds, Larssen led Rogue to the quarterfinals, marking the organisation's best placement in its history.
Despite the team's success in 2022, when Rogue finished LEC Spring 2022 in second place and won the LEC Summer 2022, the team hasn't accomplished much in 2023. The roster swaps following KOI's acquisition of Rogue at the end of 2022 did not bear any fruit for the team who started the season strong with a third-place finish in LEC Winter 2023 but ended the next two splits in sixth and eighth place, respectively, thus missed its chance to qualify for LoL World Championship 2023.
Despite not accomplishing much in the 2023 season, Larssen has been a driving force for KOI and ended the season as one of the top-performing mid-liners in the region.
By locking down Larssen until 2028, KOI now have other things to clear up, namely, who will represent the team in the 2024 season. Even though the team has yet to announce any roster changes, some changes are expected due to the team's disappointing performances.
On the other side, the LoL community is a bit concerned about KOI's future following reports of the organisation's financial struggles, which prevented KOI from paying its players, team members, and even the LEC licence.