Top 5 Best League Of Legends Betting Sites - Where To Bet Online
League of Legends is among the most popular esports titles and one of the biggest names in the esports betting industry. Nowadays, you can find League of Legends betting markets on nearly all online betting sites, from esports bookmakers to traditional sportsbooks, but while it's easy to find a bookmaker to bet on LoL with, picking the best one isn't that easy.
Stake

BC.Game

Gamdom

1xBet

DuelBits
We've tested and reviewed hundreds of online esports bookmakers in search of the best one and followed specific guidelines which helped us recognise the top choices. That included identifying bookmakers with competitive betting odds, solid market coverage, good bonus offers, and are legal, safe, and legit.
By following our strict guidelines, we've compiled a list of the best League of Legends betting sites for esports punters that can offer a safe and enjoyable betting experience.
Stake
Stake is a legit esports bookmaker
and one of the best choices for those who want to start betting on League of Legends. As a big name in the entertainment and esports betting industry,
Stake.com
is often the go-to bookmaker for anyone who wants to wager on League of Legends and many other esports titles.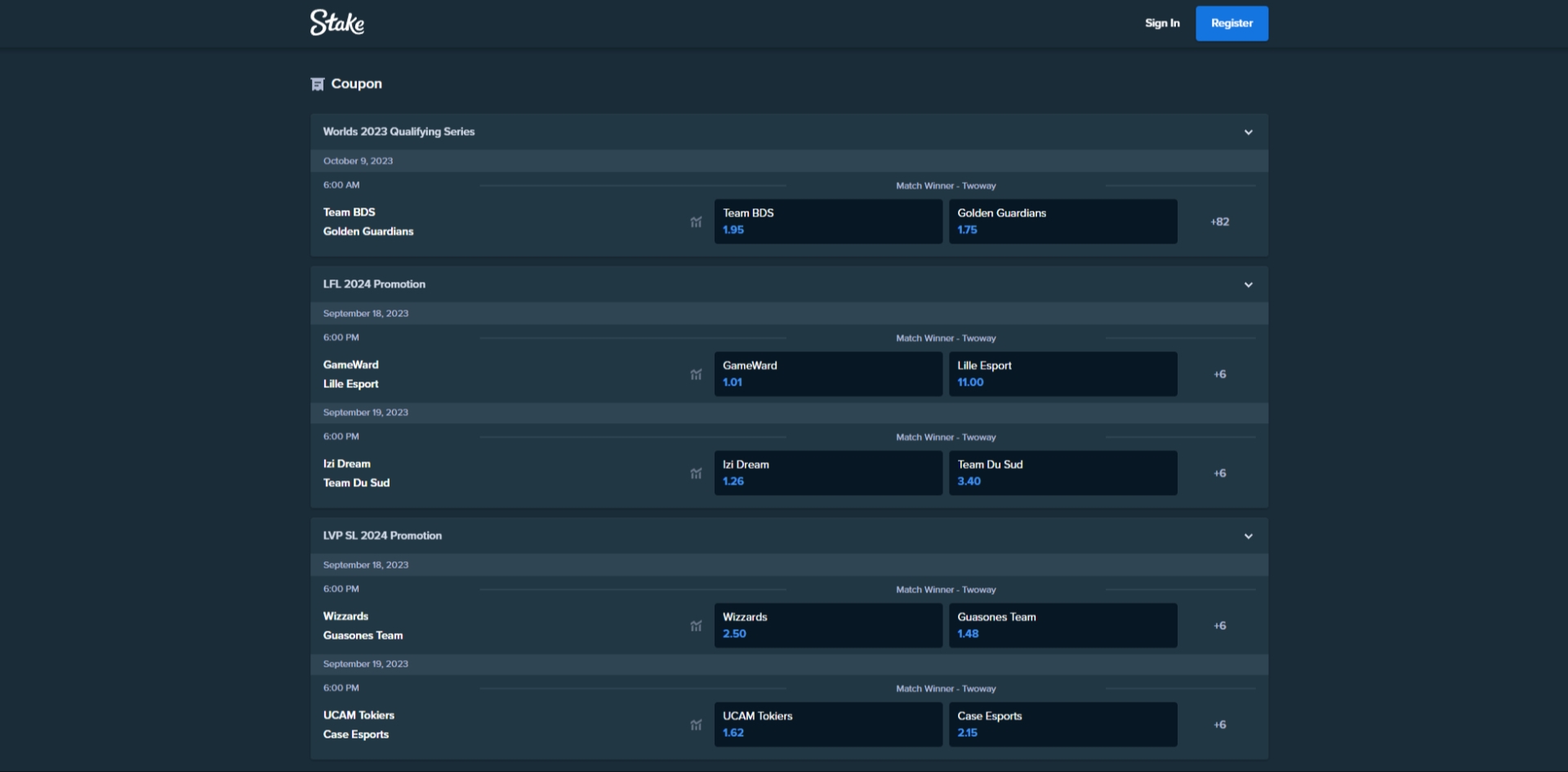 After reviewing the bookmaker, we can confidently say that Stake delivers on its promise of being one of the top betting sites and offers anything an esports bettor could wish in a betting site. Even though Stake is not primarily an esports bookie, it does an excellent job with its esports market coverage.
It offers betting markets on all major esports titles and does an especially good job with its LoL coverage, accepting bets on all major LoL leagues and even some smaller regional tournaments and academy leagues. Besides its good market coverage, Stake comes with very competitive betting odds, making it very simple to find favourable bets.
As anyone should expect from a good LoL betting site, Stake offers in-play betting and does an excellent job at it, accepting bets on more than just moneyline markets, and it will have official live streams available for all matches. This might not include some lesser games, but that's more of an industry-standard than anything else.
Since Stake isn't only an esports bookmaker, it won't have as many esports-related bonuses and promotions; however, that doesn't mean there are no bonuses esports bettors can't benefit from. Among all the promotions on Stake, LoL bettors can find several bonuses that they can take advantage of, and you can expect several esports-exclusive promotions to pop up during major esports events.
Overall, Stake does a lot of things right and is a solid choice for anyone who wants to bet on League of Legends. With its market coverage, competitive betting odds, decent bonus offers, and bonus features such as live streams and live betting, it's hard to say that Stake is anything less than one of the best LoL esports betting sites.
BC.Game
BC.Game
joins our list of
one of the best League of Legends betting sites
as a hugely popular crypto bookmaker. Like Stake, BC.Game is
not exclusively an esports bookmaker
, yet that doesn't take away from the quality of service it offers for League of Legends bettors.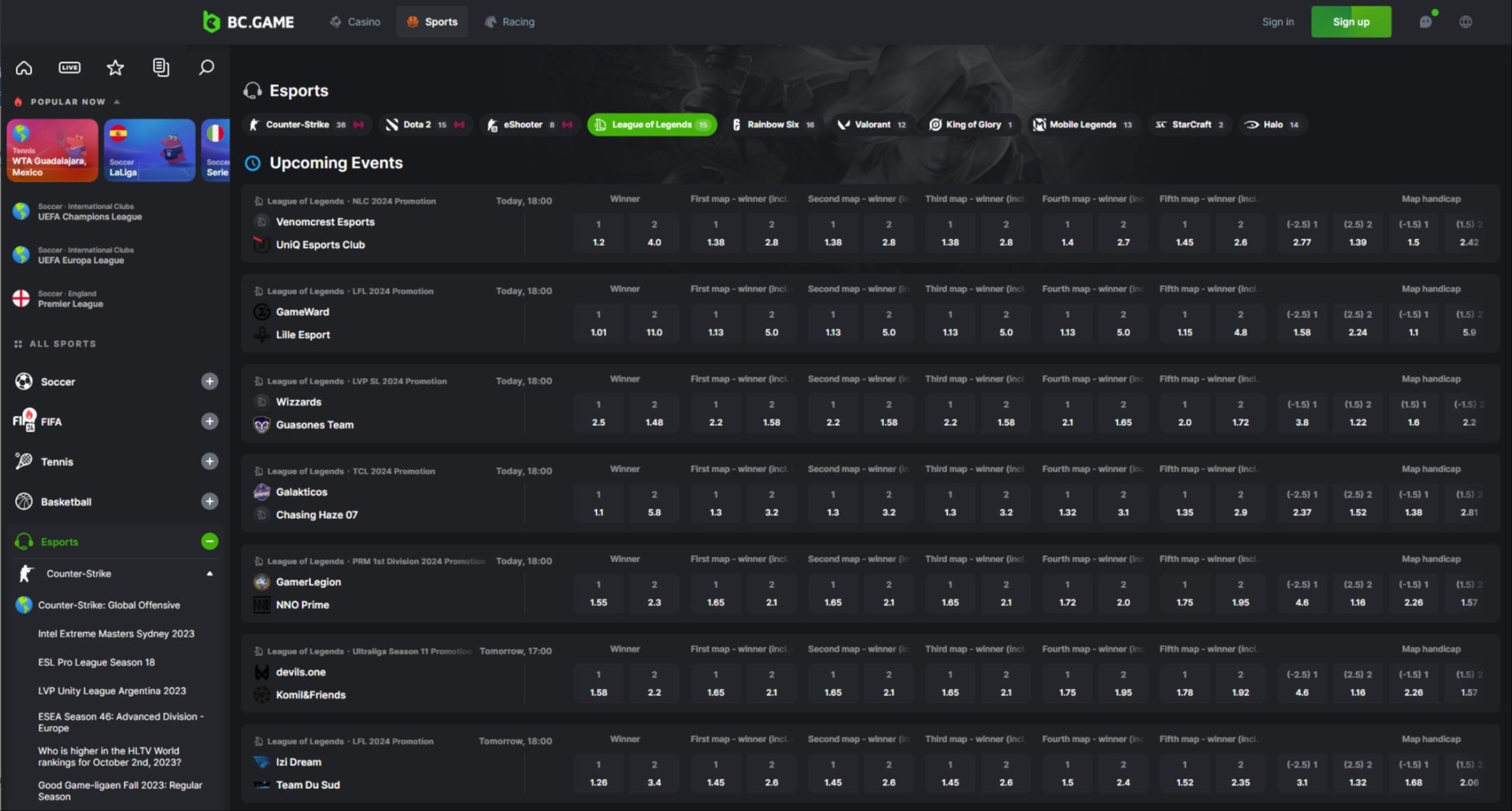 BC.Game does everything you would expect from a solid LoL esports bookmaker. It covers all major and minor LoL leagues, offers plenty of bet types, and also accepts in-play bets. Like any other good LoL bookmaker, BC.Game has live streaming options available, showing the official streams from Twitch, with a decent offer of in-play betting markets.
On BC.Game it's possible to find a wide range of bonuses and promotions, and even though there aren't as many esports bonuses, the majority of promotions can be taken advantage of by esports punters.
All in all, BC.Game is a solid crypto bookmaker and casino site and a good choice for LoL bettors.
Gamdom
Gamdom is a legit sportsbook and one of the biggest and most popular crypto bookmakers. It is not an exclusively esports betting site, but that doesn't take away from its esports market coverage.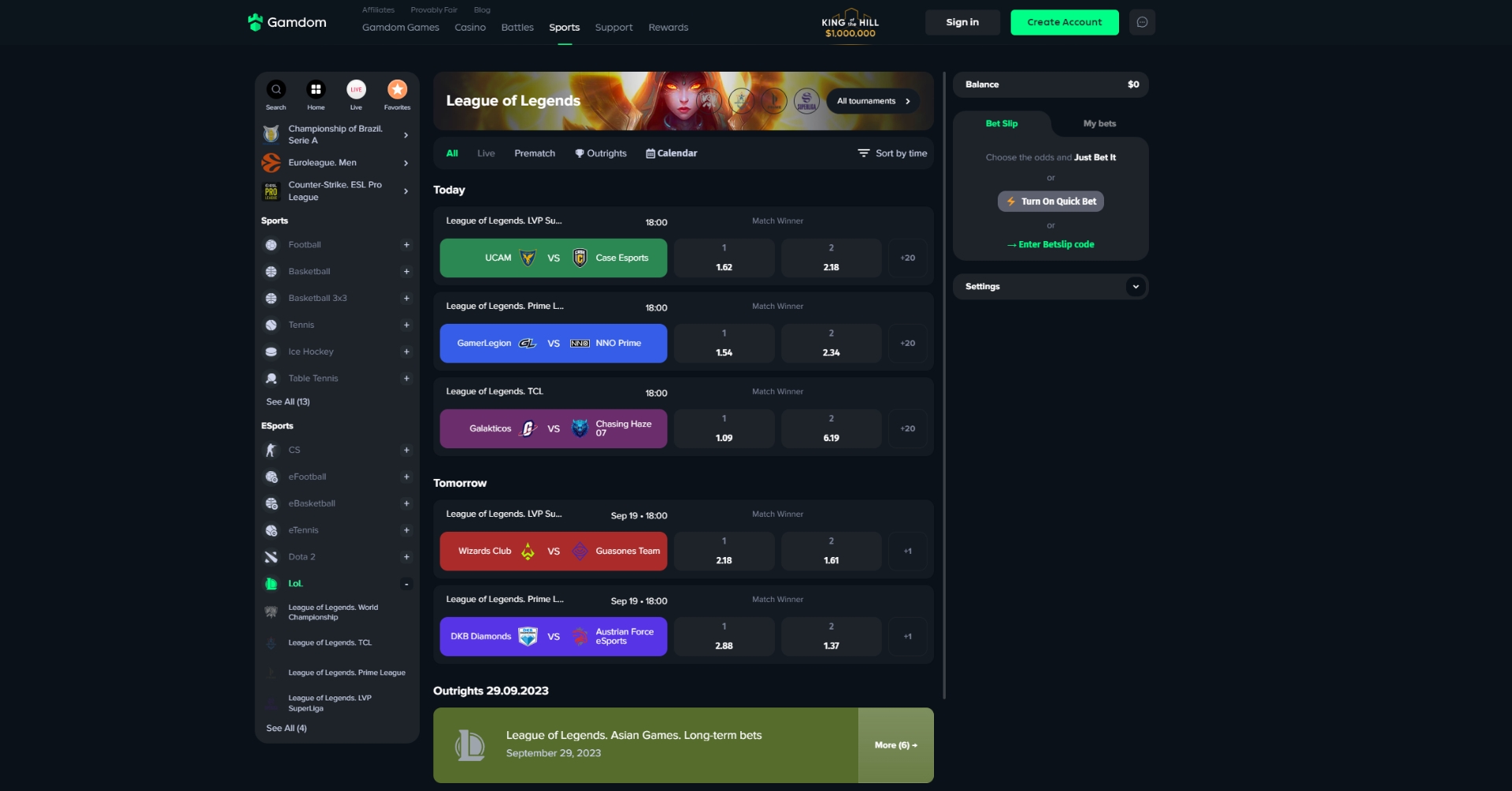 On
Gamdom
, esports bettors can find
betting markets for all major esports, including pre-match, in-play, and outright
. The betting odds are fairly competitive with other esports betting sites, and the
market coverage is good enough to provide an enjoyable betting experience.
It's worth noting that some lesser LoL games won't be covered as well, but that's not exclusive to Gamdom. On the other side, all bigger matches have very rich markets, with anything from moneyline to handicaps, map betting, and even a handful of proposition bets.
On the promotions side, Gamdom rarely offers esports-exclusive bonuses. Still, it works on a loyalty system (VIP Club), which grants bettors instant, daily and weekly rackeback, daily bonuses, and other bonuses. Gamdom also has other promotions, such as King of the Hill. However, the majority work on the loyalty program, rewarding the most active users with various goodies or free wagering cash.
Gamdom is a solid option for esports bettors, sports punters, and even those who are after a crypto casino. And even though Gamdom doesn't seem like an excellent choice for LoL betting, it has everything you could ever wish for in a solid LoL bookmaker.
1xBet
1xBet is one of the biggest names in the betting industry and a sportsbook LoL bettors should to check out
. Like all other bookmakers on our list,
1xBet
is not an esports bookmaker; however, this doesn't mean it lacks its esports coverage. On the contrary, 1xBet has
betting markets on nearly all LoL leagues and tournaments, including all major and some minor leagues.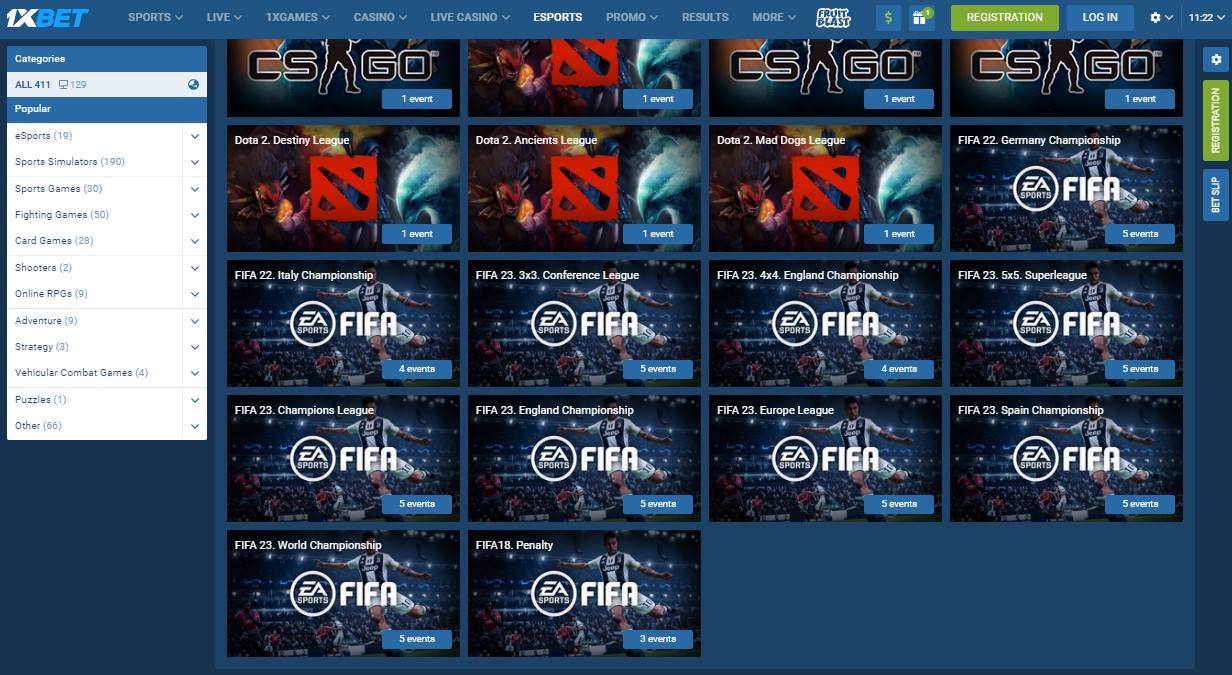 The offered LoL betting odds are fair, and while we can't say that 1xBet has the best LoL odds, it occasionally provides great prices, which alone is a good enough reason to sign up with 1xBet for your League of Legends esports betting needs.
For a bookmaker of this size, it's expected for 1xBet to have a good selection of bet types and solid pre-match and in-play market coverage. And it doesn't disappoint. In-play markets also have a stable live stream and a generous selection of in-play bets.
The bonuses and promotions are more generic, with welcome bonuses, reload bonuses and other promotions that might not be directed towards esports punters. Nevertheless, all promotions can offer lots of value for LoL bettors.
1xBet is an excellent bookmaker for betting on League of Legends and many other esports and sports. It's a complete package and a sportsbook all LoL punters should check out.
DuelBits
Duelbits is a legit and safe crypto bookmaker and casino that, at first glance, seems to focus mostly on online casinos, but it's way more than that. DuelBits' sports and esports market offer is surprisingly good, especially when we talk about LoL betting.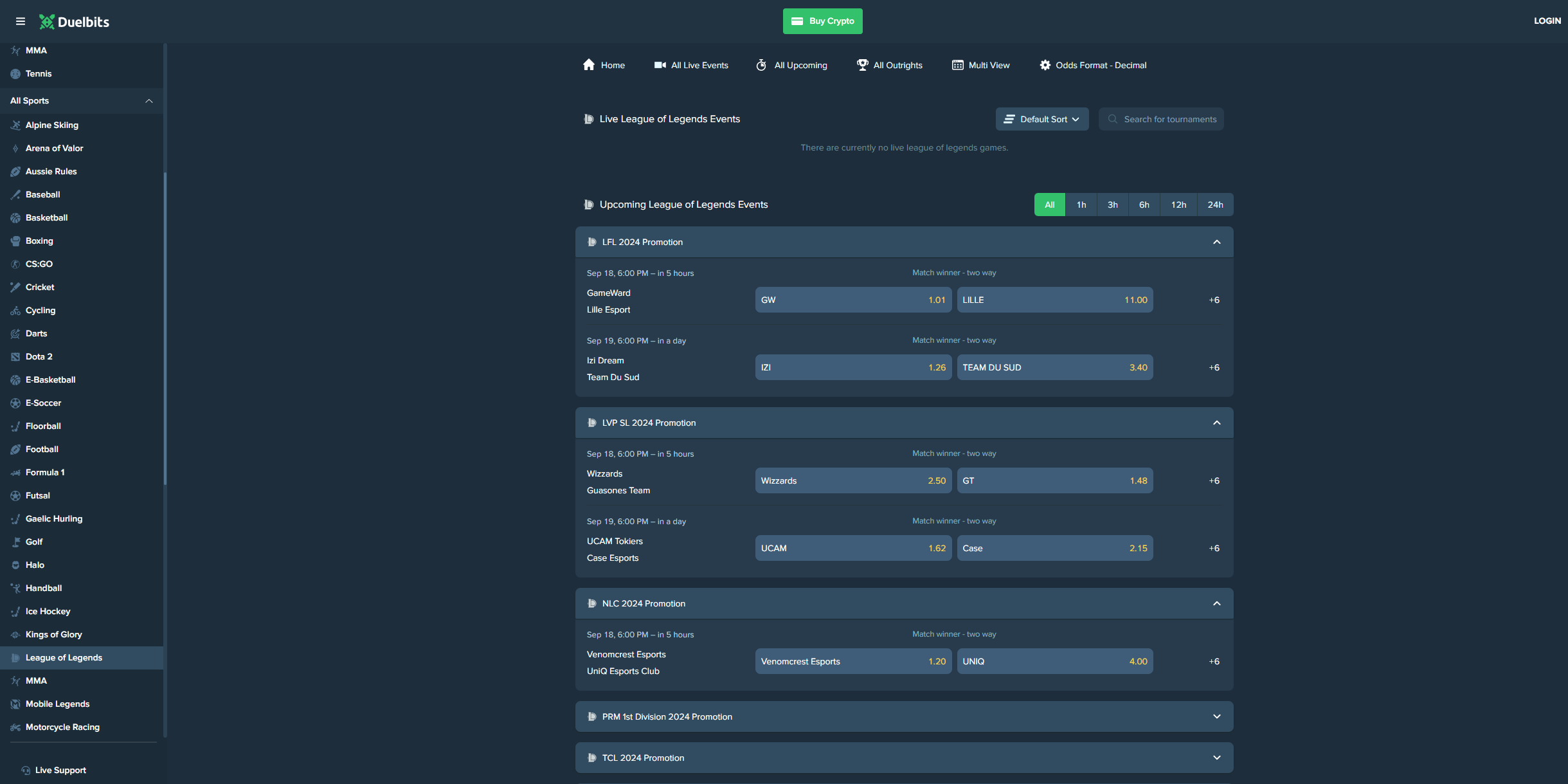 DuelBits
covers
all LoL leagues and tournaments
, and while its coverage is a bit worse on lesser competitions, bigger events or games in major regions are covered extremely well. During our testing of the bookmaker, we found that
LoL matches on DuelBits regularly come with over 100 markets
, which includes anything from moneyline, handicaps, over/under, map betting and a generous selection of proposition bets.
Unlike most other LoL bookmakers, DuelBits also offers detailed stats of the players and teams, which is an excellent addition to what is already a perfect platform for LoL betting.
Promotions and bonuses tend to focus more on sports and casino games; however, LoL bettors can benefit from DuelBits' VIP program, so we're not left completely empty-handed. But even without any esports-exclusive bonuses, DuelBits is an excellent choice for betting on League of Legends.
That concludes our list of the top five League of Legends bookmakers. All betting sites are safe and legit and are an excellent choice for anyone who wants to start betting on LoL. Before registering with any of the five, make sure to check for welcome bonuses and remember to gamble responsibly.