ViviD Rejoins DetonatioN FocusMe as Head Coach
Detonation FocusMe announce Han "viviD" Gi-hun as the team's new head coach
ViviD returns to DetonationFocusMe after four years
DetonationFocusMe released its previous coaches due to the mistreatment of players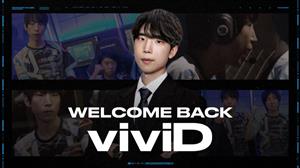 Detonation FocusMe viviD
(credit: via Twitter (@team_detonation))
Japanese League of Legends team, DetonatioN FocusMe, announced the return of its former support player Han "viviD" Gi-hun, who joins the team as a coach. DetonatioN FocusMe announced the news on Thursday, August 10, ahead of the team's appearance in the LoL Japan League (LJL) 2023 Summer Playoffs finals.
The reigning LJL champions, DetonatioN FocusMe, announced the signing of viviD, who re-joined the Japanese LoL team as a coach. The announcement comes a month after DetonatioN FocusMe released coaches Kazuta "Kazu" Suzuki and Kyohei "Ceros" Yoshida, leaving viviD as the squad's new head coach.
The sudden change of coaching personnel came at an unfortunate time for DFM, who were at the time still competing in the LJL 2023 Summer regular season. But it has a darker backstory.
DetonatioN FocusMe released Kazu and Ceros after the team's top laner Haruki "tol2" Shibata made allegations against the coaches for their abusive behaviour.
DetonatioN FocusMe conducted an internal investigation and interviews with all three parties and concluded that there was mistreatment of the players, which led to the departure of the two coaches.
"As a result of confirming the facts, it is true that two coaches, Kazu and Ceros, made statements that could be interpreted as threats and personally insulting."
Despite parting ways with the coaches, DetonatioN Focus Me finished the LJL 2023 Summer regular season in first place, with just one forfeit defeat against Crest Gaming Act. The team continued with their strong showings in the playoffs, first defeating Crest Gaming Act (3-0) and adding a close 3-2 victory against SoftBank HAWKS, securing a spot in the LJL 2023 Summer finals.
Even though Detonation FocusMe made it far and are now just one series away from securing their fifth LoL World Championship appearance, the Japanese squad has only now found a replacement for Kazu and Ceros.
As revealed on Thursday, DFM appointed its former player viviD as the new head coach. The 30-year-old former professional player announced his retirement from competitive League of Legends in January 2021 when he took a break from pro play to complete his military service in Korea.
ViviD joined DetonatioN FocusMe in January 2016 and remained with the team until December 2018, helping DFM win two domestic titles, Rift Rivals 2017 GPL-LJL-OPL, and reached four LPL finals.
ViviD will make his debut as DFM's head coach on Sunday, August 20, in the grand finals of LPL 2023 Summer Playoffs.