Evil Geniuses Defy All The Odds And Win VALORANT Champions 2023
Evil Geniuses win VALORANT Champions 2023 with a 3-1 win against Paper Rex
The second VALORANT Champions 2023 trophy for the VCT Americas League
EG collect $1,000,000 in winner's share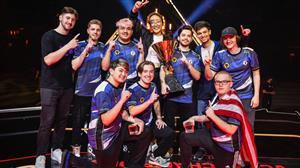 Evil Geniuses VALORANT Champions 2023
(credit: via Twitter (@omgitspotter))
The 2023 Valorant season concluded on Saturday, August 26, with the grand finals of VALORANT Champions 2023, when the home-crowd favourites, Evil Geniuses, emerged triumphant with a 3-1 victory over Paper Rex. It marks a huge accomplishment for Evil Geniuses, who found themselves struggling early into the 2023 Valorant season, and the North American region, which found itself back on the top of the Valorant esports foodchain.
In a surprising turn of events, Evil Geniuses went from being one of the weakest teams from VCT Americas League to winning the VALORANT Champions 2023 with a commanding 3-1 win over Paper Rex in the finals. With that, EG collected their first international trophy and pocketed a $1,000,000 winner's share.
Evil Geniuses had a very rough start to the 2023 season, as they failed to accomplish much at VCT 2023: LOCK//IN São Paulo, finishing the season-opening event in ninth-16th place. Things didn't get much better for Evil Geniuses during the VCT Americas League, where they came extremely close to missing out on the playoffs.
But thanks to a couple of upsets that happened between other VCT Americas League, Evil Geniuses squeezed their way into the playoffs. And that served as a catalyst for Evil Geniuses' Cinderella Story.
Despite struggling during the regular season, Evil Geniuses woke up during the VCT Americas League playoffs and placed third, which secured them a spot at the VCT Masters Tokyo. The North American side travelled to Japan as one of the outsiders but didn't play like it.
Going against all the odds, Evil Geniuses reached the VCT Masters Tokyo finals, where they eventually lost against Fnatic (0-3). Still, EG's remarkable resurgence midway through the season put a spotlight on them and earned EG a tag as one of the main favourites to win VALORANT Champions 2023.
Not many believed they could do it, as EG were still viewed as a weaker side than Paper Rex and Fnatic. Yet, Evil Geniuses proved all the doubters wrong again.
Following their Cinderella Run at VCT Masters Tokyo, Evil Geniuses kept the wind in their sails. They started their VALORANT Champions 2023 strong, winning Group B with two clean sweeps of FunPlus Phoenix (2-0) and FUT Esports (2-0) and added a closely-fought but well-deserved win against EDward Gaming in the first round of the playoffs.
In the second round of the playoffs, Evil Geniuses got paired with DRX, who proved to be no match for the home-crowd favourites and lost 0-2, handing Evil Geniuses a ticket for the upper bracket finals. And it was only here that EG stumbled and lost against Paper Rex (1-2) in a very close game.
Still, Evil Geniuses got back on their feet and edged past the defending world champions, LOUD (3-2), in the lower bracket finals to book a rematch with Paper Rex in the grand finals. As the lower seed, EG were at a disadvantage as Paper Rex received two map bans, leaving Evil Geniuses at the mercy of the VCT Pacific League squad's map picks.
But even that handicap didn't stop Evil Geniuses, who took the series lead with 13-10 on Split. Paper Rex struck back with 13-11 on Ascent, tying the series at 1-1, but from there, it was EG's show.
The North American squad crushed Paper Rex on Bind (13-5) and added another convincing win on Lotus (13-10), winning the grand finals 3-1, again proving all the doubters wrong and etching their names in history books.
By winning the VALORANT Champions 2023, Evil Geniuses became the second VCT Americas League team to win the world championship (after LOUD in 2022) and secured a mouth-watering $1 million share of the prize pool.