Kick off your day with our list of the best Esports betting sites. Explore our guides to virtual football tournaments and experience the thrill of predicting FIFA match outcomes.
What Is FIFA Esports?

Top FIFA Esports Betting Sites

How Does FIFA Esports Work?

How To Bet On FIFA Esports

Key FIFA Esports Tournaments & Leagues
FIFA Esports Betting Sites & Tips
What Is FIFA Esports?
FIFA is a football video game published by Electronic Arts and one of the longest-running sports simulation games in the world. First released in 1993 as FIFA International Soccer, FIFA has since released a new version of the series annually and is one of the world's best-selling games in history.

Played by people worldwide, FIFA didn't need long before it formed a professional esports scene, which revolves around FIFA Global Series and various lesser events hosted by numerous esports tournament organisers.
And even though it's not nearly as popular as some of the biggest esports such as Counter-Strike, League of Legends, Valorant, or Dota 2, FIFA has a healthy competitive scene watched by thousands of people from all corners of the world.
Top FIFA Esports Betting Sites
How Does FIFA Esports Work?
FIFA is a football sports simulation game; therefore, it's straightforward to understand as it plays and follows the same rule as real-world football. The only significant difference is that the games don't take 90 minutes to complete.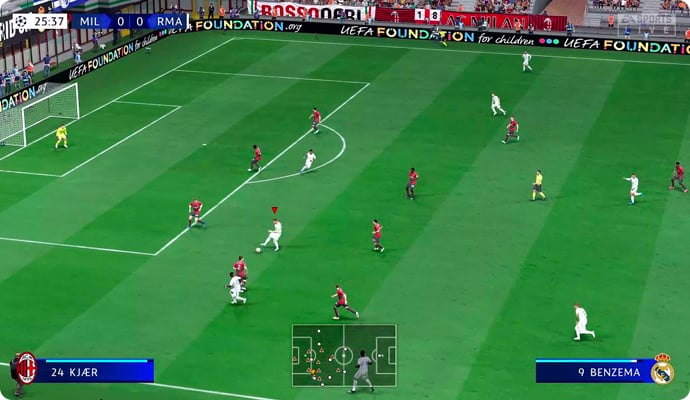 A typical FIFA game is played between two players who pick the preferred clubs they'll control in the match and take control of all the players in the club. The rules are the same as in real-world football, with the player who has scored the most goals by the end of the game winning the match.
How To Bet On FIFA Esports
Betting on FIFA is straightforward, especially for those who have previously bet on football. Since the rules are the same as in real-world football, so are the offered betting markets, which include 1x2, handicaps, totals, and other traditional bet types.
To Win




To win (or 1x2) is the most basic bet we can place on FIFA, used to predict which player (or club) will win the match. Unlike in most other esports, where we are offered only moneyline wagers, a FIFA match can end in a draw; therefore, a 1x2 betting markets is available.




Some bookmakers will include moneyline wagers, which work the same way as 1x2 bet with overtime included.




Asian Handicaps




Handicaps in FIFA work the exact same way as in traditional football and are offered on goals scored. Although football matches have other types of handicaps, FIFA betting markets are typically a bit more limited as most esports bookmakers only offer handicaps on goals.

Since FIFA is a football simulation, bookmakers also offer three-way handicaps, which work the same as three-way handicaps in traditional sports.




Totals




Totals are wagers which allow punters to predict whether a certain statistic in a game will exceed the predetermined value. Totals (or over/under) are available for most esports titles, including FIFA.

The most common totals bets in FIFA are wagers on total goals scored, although many esports betting sites also offer total wagers on individual teams/players – "Will Donovan "Tekkz" Hunt score over or under 3.5 goals".




Draw No Bet




Draw no Bet (DNB) is one of the few bet types which are typically not available in esports but are offered in FIFA games. As in traditional sports, DNB is a wager which eliminates the possibility of a draw and works the same way as a +0 Asian Handicap.




With a draw no bet, we place a bet on either of the two teams (or players) to win the match, and if the game ends in a draw, the wager will be settled as a push and refunded.




Proposition Bets




Even though FIFA plays like real football, where punters have access to many proposition bets, FIFA esports markets rarely have any available. Some esports bookmakers might offer a prop bet here and there, but those are very rarely available as it's hard to determine what could fall into prop bets for FIFA.




Outrights




Outrights are simple wagers used to bet on future events. The most common and popular FIFA outrights are wagers on which player will win a tournament, but there are also other prop bets esports betting sites will have available.




Besides the outright winner, some bookmakers will accept bets on which player will score the most goals "to reach the finals", group betting, and stage of elimination. Most outright bets in FIFA are similar to futures found when betting on real-life football tournaments and are usually very simple.
Key FIFA Esports Tournaments & Leagues
FIFA has a well-developed competitive scene comprising hundreds of tournaments, including lesser domestic events and international competitions. Some of the biggest FIFA esports events mimic real-world football tournaments with a similar format and name.

Some of the most notable FIFA esports tournaments include eLibertadores, EA Champions Cup, FIFAe Club World Cup, FIFAe Nations Cup, FIFAe Continental Cup, eChampions League, and FIFAe World Cup. Besides the major events taken from the real-world football world, there's also FIFA Global Series, which serves as a qualifying event for the FIFAe World Cup.
Key FIFA Tournaments:
EA Champions Cup
FIFAe Club World Cup
FIFAe Nations Cup
FIFAe Continental Cup
eChampions League
FIFAe World Cup