Discover the exhilarating world of League Of Legends esports as we guide you on how to bet like a pro. Dive into the latest tournaments, explore team analysis, and unlock the potential for thrilling wins in the ever-evolving landscape of competitive gaming.
League of Legends Latest News

What Is League of Legends?

Top League of Legends Betting Sites

How Does League of Legends Work?

How To Bet On League of Legends

Key League of Legends Tournaments & Leagues
League Of Legends Betting Sites & Tips
What Is League of Legends?
League of Legends is a Multiplayer online battle arena (MOBA), released in 2009 by Riot Games as a free-to-play title. Nowadays, LoL is one of the world's most-played online video games and a significant name in the global esports world.

Boasting hundreds of millions of daily active players, League of Legends is very popular worldwide, and thanks to its immense popularity, the LoL competitive scene has grown exponentially over the years, with some of its tournaments hosted at the world's biggest stadiums and arenas.
The LoL competitive scene quickly caught on, and it didn't take long before people started noticing LoL as a legitimate esports.
And with that also came the attention of betting sites, who didn't need long to start offering LoL betting markets, which can nowadays be found on esports bookies and most traditional sportsbooks.
Despite its age, League of Legends continues to grow in popularity and is of the most prominent esports titles, alongside Counter-Strike, Dota 2, and another Riot Games creation, Valorant.
Top League of Legends Betting Sites
How Does League of Legends Work?
League of Legends is an online video game in the Multiplayer online battle arena (MOGA) genre, and as such, it plays similarly to other MOBA games such as Dota 2 and Heroes of the Storm.
The game is played between two teams of five players, where each player takes on responsibility in the form of a role – top laner, mid-laner, jungler, ADC, and support. Before the game starts, the players pick between +160 "champions", each with four unique abilities, which the players control during the match.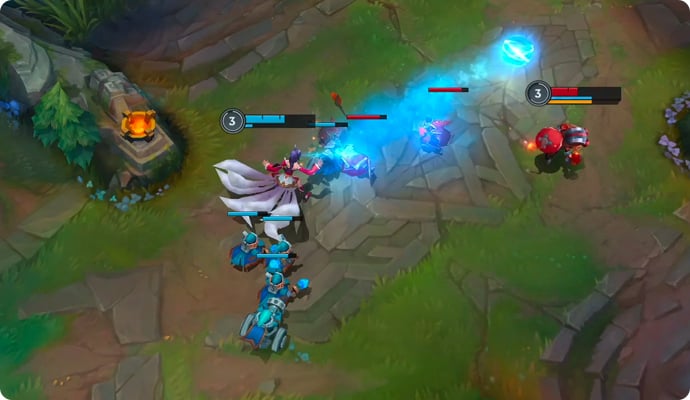 A match occurs in an arena known as the Summoner's Rift, consisting of three lanes (roads) connecting the two bases on the map's opposite side.
Each lane has defensive buildings (towers) that shoot the opponents and inhibitors at the end of the lane in a base, spawning small AI-controlled minions who walk towards the opponent's base and fight enemy minions and enemy players.
The minions can be killed by players who are awarded experience and gold. By gaining experience, the players get to level up their characters to obtain stronger versions of their abilities and spend gold to buy items that boost their damage and survivability.
Between the lane, there's a forest (also known as jungle) filled with neutral monsters which give gold and various buffs to the player that kills them and his entire team.
The goal of the game is to destroy the opponent's Nexus – a big building located in the middle of the team's base but to get there; the players first have to destroy the defensive towers and inhibitors as well as fight off the opponents.
An LoL game doesn't have a timer but ends once one of the teams destroys the opponent's Nexus, which typically takes 30 minutes.
How To Bet On League of Legends
Betting on League of Legends is both very simple but also complex. Similar to the actual game, LoL betting is simple to learn but hard to master, mainly because there are many markets to explore and a plethora of great in-play betting opportunities.
The main ways to bet on League of Legends is with some of the most popular bet types, including moneyline, handicaps, and totals. However, there are also many proposition bets, which offer a bit more flexibility with the best.
Moneyline is a very straightforward bet that doesn't need an extra explanation. Like in sports, a moneyline bet is used to predict the winner of the game or the series.
Handicaps also work the same way as in sports, but when betting on LoL, the offered handicaps will focus on different things as there are no goals or points we can handicap.
Rather, the bookmakers offer LoL handicaps on maps won (in best-of series), the number of kills a team scores, and the number of towers destroyed.

Totals

Totals in LoL betting offer a bit more variety as they are offered on many statistics in the game, including the number of kills, number of towers and inhibitors destroyed, number of Drakes and Barons killed, and total game time.

Some esports bookmakers will also offer total kill markets on individual players, but those are less common than the generic over/under bets.

The number of propositions in League of Legends will vary depending on the bookmaker, but one of the most common is "first team to", with which we can bet on which team will achieve something first.

That can include a wager on which team will secure the first kill on the opponent player (First Blood), the first team to destroy the tower or inhibitor, or kill the first Drake or Baron.

Most of LoL bet types revolve around kills, neutral monsters, structures and the total time, which makes it very easy to understand.
Key League of Legends Tournaments & Leagues
League of Legends has a very nicely developed competitive scene, which works on a seasonal system with many regional leagues. Similar to football, there are LoL leagues across the entire world, but instead of each country hosting its own league, the leagues are spread regionally.

Even though there are dozens of LoL leagues, they're divided into three categories - Major regions, Minor regions, and academy leagues – based on the leagues' strength and size.
These leagues welcome the top teams from the respective leagues, who compete for the regional title and an invite to international events. As of now, LoL has only two international events – the Mid Season Invitational and LoL World Championship.
Both international events are open to all LoL esports teams who qualify for them and are two of the world's biggest and most-watched esports tournaments.
Especially the LoL World Championship annually draws in massive crowds, with its viewer base often surpassing some of the biggest sporting events, such as the Super Bowl.
Key LoL Tournaments:
League of Legends EMEA Championship (LEC) – Europe
League of Legends Championship Series (LCS) – North America
League of Legends Champions Korea (LCK) – South Korea
League of Legends Pro League (LPL) – China
League of Legends Mid-Season Invitational – International
League of Legends World Championship - International