Discover the best esports betting sites for a remarkable gaming experience as you witness legendary clashes and victorious rewards. Read on and immerse yourself in the epic world of Dota 2.
What Is Dota 2?

Top Dota 2 Betting Sites

How Does Dota 2 Work?

How To Bet On Dota 2

Key Dota 2 Tournaments & Leagues
Dota 2 Betting Sites & Tips
What Is Dota 2?
Dota 2 is a Multiplayer Online Battle Arena (MOBA) video game released by Valve in July 2013. Over a decade later, Dota 2 is one of the most popular online games, which had a massive impact on the development of the esports scene and, ultimately, the esports betting industry.

Along with League of Legends and Counter-Strike, Dota 2 is one of the "Big Three" esports titles due to its global popularity and exceptionally well-developed esports ecosystem. But most of all, Dota 2 is known as the most lucrative esports title in the world, hosting tournaments with prize pools of over $40 million.
Besides being one of the most-watched esports titles in the world, Dota 2 is also a big hit among esports bettors, made possible due to sportsbooks' excellent coverage of Dota 2 tournaments. But while it's easy to start betting on Valve's MOBA game, the question remains – how to bet on Dota 2?
Top Dota 2 Betting Sites
How Does Dota 2 Work?
Valve's MOBA is known to be one of the most complex online games in the world, which holds true from a player's perspective. However, Dota 2 is simple to follow and understand for the viewers and esports bettors.
Dota 2 plays like other MOBA titles, such as League of Legends, and even though the two games are not quite alike, they bear many similarities.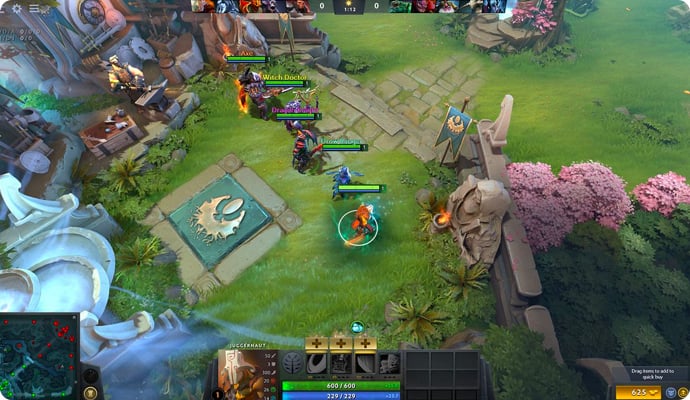 Dota 2 is a team game where two teams of five players fight in an arena (or map) to complete the main objective – destroy the opponent's main building, known as Ancients or "Thrones". Before the game starts, the players pick one of the +120 heroes to control throughout the match, each with unique skills and abilities.
Players on a team take on one of five roles, including carry, mid lane, offlane, position four support and position five support. To successfully fulfil their role's obligations, the players have to pick a hero with the proper set of abilities; however, some heroes can play various positions due to their versatile kits.
A Dota 2 map has three "lanes" or roads connecting the map, with the team's bases located on opposite sides. The lanes are guarded by towers, which automatically attack enemy players. At the end of the lane and the start of the team's base are barracks that spawn creeps - AI-controlled minions that fight alongside their team.
Between the lanes is a forest (or jungle) filled with neutral monsters which award gold and various buffs for the player that kills them and his team.
Killing enemy players, creeps, buildings, and neutral monsters awards players experience and gold. By gaining experience, the players level up their heroes to obtain stronger versions of their abilities. In contrast, gold can be spent on various items for added damage and survivability.
Dota 2's gameplay is very similar to League of Legends (and most other MOBA games), and so is betting on either since they primarily use the same bet types and markets.
How To Bet On Dota 2
Dota 2 is a complex game with a very high skill ceiling, but it's simple to follow and understand as a viewer. And likewise, it doesn't take long to learn how to bet on Dota 2 as it only requires understanding the basic bet types.
The main advantage of Dota 2 betting over most other esports titles is that it's easily accessible on all esports bookmakers and traditional sportsbooks. And most importantly, all of the most popular Dota 2 bet types are very straightforward.
Moneyline




Moneyline is the most fundamental bet we can place on Dota 2, and it works the same way as in other esports or sports. With a moneyline bet, a punter predicts which team will win the next match, and it doesn't matter by how much the team wins or how long it takes then – the only thing that matters is the final result.




Handicaps




Handicaps are wagers which add a bit more variety and are offered by bookmakers to level the playing field between two teams that aren't equally matched. Handicaps are a negative or a positive imaginary advantage given to the teams based on their perceived strength and can be offered as kills; maps won, towers destroyed, Roshan kills, or any other statistic in the game.




Maps handicaps are only available in best-of games, where the teams have to win multiple maps to take the series. On the other side, kill handicaps (+/- 5.5 kills) towers destroyed, and Roshan kills are typically available for each map.




Totals




Totals (or over/under) bets are wagers on whether a specific statistic in a game will exceed the predetermined value. Totals in Dota 2 are usually offered on the same statistics as handicaps, which include, but are not limited to, total kills, total towers or barracks destroyed, or Roshan kills.

Totals are some of the most popular and simplest Dota 2 wagers, available for individual maps or whole series wagers.




Proposition Bets




Proposition bets in Dota 2 are all wagers on an occurrence or non-occurrence of specific events which don't directly affect the game's outcome. The most popular proposition in Dota 2 is "first team to", which, as the name suggests, is a wager on which team will be first to achieve a certain goal, including the first team to secure a kill (First Blood), the first team to kill Roshan, the first team to destroy a tower, and so on.




Outrights




Outrights (or futures) are wagers on future events or bets placed on the outcome of an entire Dota 2 tournament or league. There are many different Dota 2 outright betting markets available, but the most common is the outright winner – a wager on which team will win a particular competition.




Other popular Dota 2 outright wagers include bets on which player will be a tournament MVP, which team will win the most maps in a tournament, which hero will be picked the most and the least in a tournament, which hero will have the most kills, and which hero will be banned the most throughout the competition.




The number of futures will vary from bookmaker to bookmaker, but the most significant Dota 2 events will always have more than just an outright winner market.
Key Dota 2 Tournaments & Leagues
Dota 2 competitive scene revolves around one primary circuit – the Dota Pro Circuit (DPC). Formed in 2017, the DPC is the official tournament format system established by the game publisher, Valve, which consists of Regional Leagues, seasonal "Major" tournaments, and The International.
The primary DPC Regional Leagues are located in North America, South America, Eastern Europe, Western Europe, Southeast Asia, and China. Each Regional League has two divisions (Division I and Division II) with promotions and relegations and consists of three tours – Winter, Spring, and Summer.

DPC Majors are international events that welcome the top-performing teams from the top divisions of all regional leagues. DPC Majors happen between the DPC tours, meaning there are three Majors per year – in February/March, April/May, and June/July.
The biggest and most important Dota 2 esports season event is The International, which typically takes place in autumn and serves as a Dota 2 World Championship. TI is known as one of the biggest esports events of the year and is the most lucrative esports tournament in history, with its prize pool exceeding $40 million.
Key Dota 2 Tournaments:
DPC Eastern Europe (EEU)
DPC Western Europe (WEU)
DPC North America (NA)
DPC South America (SA)
DPC Southeast Asia (SEA)
DPC China (CN)
DPC Majors
The International