Sportbet.one Review
Sportbet.one is a safe and legitimate online betting site that has been operational since 2018 and has, over the years, made a name for itself as a highly reputable online bookmaker. The gambling site started with a heavy focus on cryptocurrencies and is still a crypto bookmaker; however, there's more to Sportbet.one than that.
Sportbet.one doesn't promote itself as an online crypto casino, sportsbook, or esports betting site, but it does an excellent job in all three departments. So anyone who is after a reliable crypto gambling site or a platform for betting on sports or esports should consider checking out Sportbet.one and what it has to offer.
The
Sportbet.one promo code
NEWBONUS is available to use when joining, and it gets you a 150% Deposit Bonus up to $1500.
Here's everything you need to know about Sportbet.one, what betting markets it offers, its odds, bonuses and promotions, and more.
Sportbet.one Verdict
Sportbet.one is a decent online betting site and casino that is worth checking out. It does many things right and has very competitive betting odds; however, there are areas where Sportbet.one could improve mainly with its live betting offer, where it lacks live streaming options.
Sportbet.one Pros & Cons
Accepts various payment methods
Simple and easy to navigate
Doesn't offer live streaming
Doesn't cover as many esports as other bookmakers

Sportbet.one Odds & Markets
Sportbet.one does a very good job with its betting market coverage as it accepts bets on a wide range of sports and esports. Admittedly, compared to other bigger betting sites, Sportsbet.one doesn't cover as many sports or esports, but it does have markets for all the bigger titles.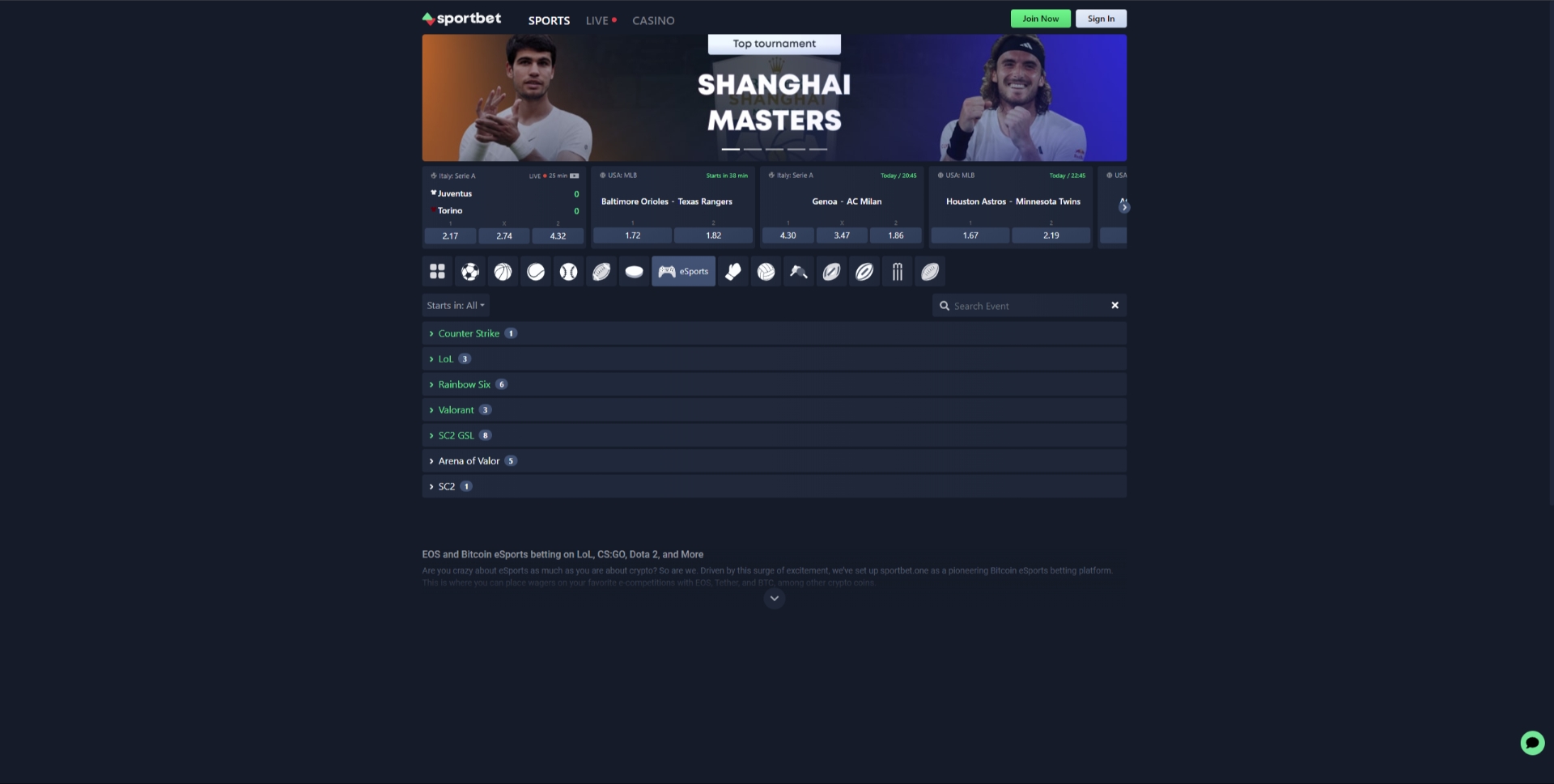 In particular, its esports betting offer is very solid for a betting site that is not exclusively an esports bookmaker. On Sportsbet.one punters can bet on Counter-Strike, League of Legends, Dota 2, Rainbow Six Siege, Valorant, StarCraft, Arena of Valor and many more titles.
Beyond that, Sportbet.one does a good job with its tournament coverage, offering betting markets on all major esports titles and plenty of smaller events, ensuring that esports punters don't miss out on any action. It's also important to touch on Sportbet.one's betting odds, which are quite generous.
Compared to other esports betting sites, Sportbet.one has very competitive betting odds which are often above the market average. So, while some might not want to sign up for Sportbet.one to use it as their primary bookmakers, it is an excellent betting site for line shopping.
Sportbet.one Live Betting
Sportbet.one has a special section of the website dedicated to live betting, where punters can find in-play markets for all sports and esports. The live betting offer is solid, with very competitive in-play odds, but besides that, Sportbet.one is lacking compared to other esports bookmakers.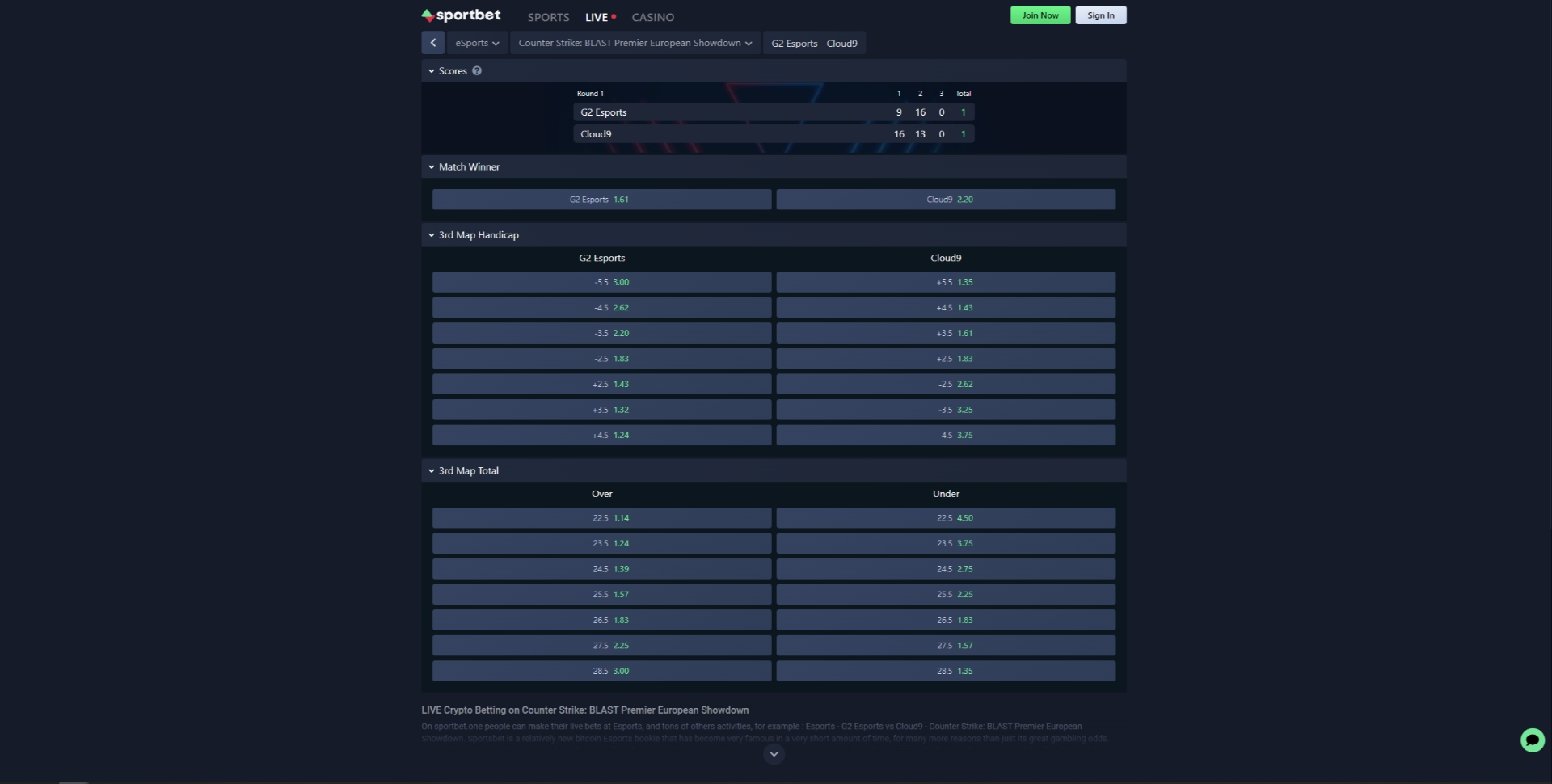 On Sportbet.one you can't find any live streams for esports, which is very disappointing, knowing that live streams are more of an industry standard nowadays than a bonus feature. Moreover, the live betting markets aren't too generous and often come with just handicaps and moneyline.
On a more positive note, the live odds are solid, and Sportbet.one does an excellent job updating the live odds quickly, so you don't miss out on any betting opportunities. So while Sportbet.one does a fine job with its live betting offer in some areas; more markets and live streams would be a nice addition.
Sportbet.one Website & Login
Sportbet.one is a very simple and lightweight bookmaker which is easy to use and navigate. This is a huge plus since Sportbet.one doesn't clutter its site with unnecessary features and banners – it's a simple and well-designed website anyone can use without any issues.
The lightweight approach to building the platform has also enabled Sportbet.one to offer a very responsive website which works without any hiccups or delays. Markets open instantly, and all bets are placed without any problems, ensuring an enjoyable betting experience.
One issue we have with Sportbet.one is that it doesn't offer a mobile betting app for Android or iOS devices. Instead, Sportbet.one has a mobile website, which does its job and is well-optimised, but there's definitely room for improvement, mainly by offering a mobile betting app.
Promotions
Sportbet.one offers various bonuses and promotions for its users to take advantage of, which include anything from cashback offers to enhanced odds, half-time payouts, deposit bonuses, and more. Even though Sportbet.one also offers an online casino, it primarily focuses on offering sportsbook promotions, which is usually not the case with other crypto gambling sites.
However, while Sportbet.one has bonuses and promotions; those are not available as regularly as we would like. Most will only be available during major events, and we couldn't find any esports-related bonuses, which was a letdown.
Even though esports punters can benefit from any generic bonuses, we would like to see at least some esports promotions.
Sportbet.one Withdrawals & Deposits
Sportbet.one is a crypto bookmaker and therefore accepts crypto deposits. And like other crypto gambling sites, Sportbet.one also accepts deposits with a credit card, Apple Pay, and Google Pay, so even those who don't have any crypto available can make a deposit without any issues.

Of the available crypto deposits, Sportbet.one accepts Bitcoin (BTC), Tether (USDT), Ethereum (ETH), Litecoin (LTC), EOS, and SBET.
Sportbet.one Customer Service
Sportbet.one has two ways customers can get in touch with customer support agents if they happen to encounter any issues while using the bookmaker. You can either get in touch with
customer support through email
(
[email protected]
), or via
live chat, which is available 365 days a year, 24/7.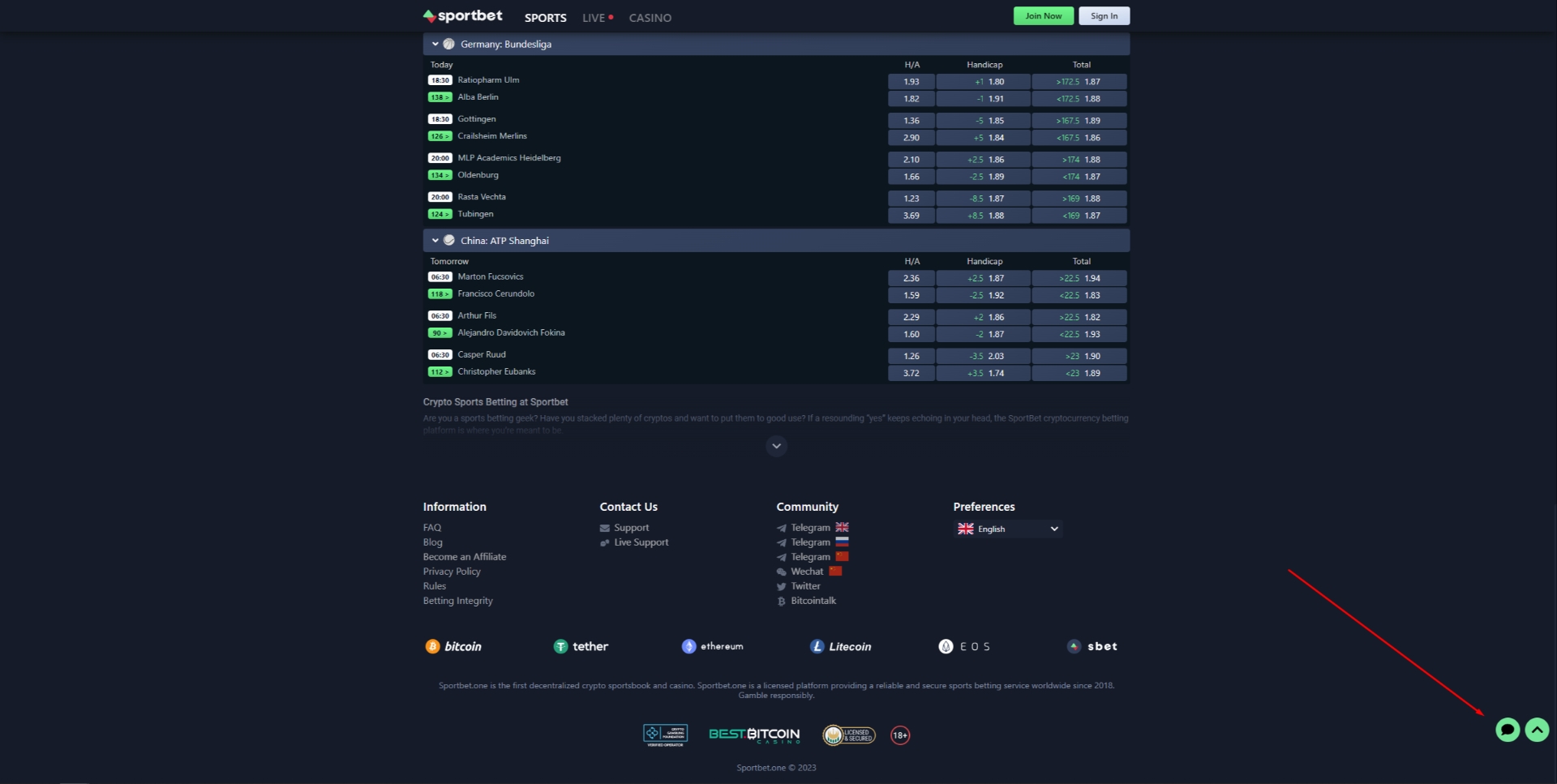 Sportbet.one doesn't have a phone number, and its FAQ section is not very rich with valuable information. However, bettors can always contact customer support through live chat and get in touch with agents within seconds.
Is Sportbet.one legit?
Yes, Sportbet.one is a legit crypto bookmaker and online casino, owned by Reedll Limited, which owns a valid Mwali International Gaming Licence.
Does Sportbet.one have promotions?
Sportbet.one offers various bonuses and promotions for its sportsbook. However, the bonuses are typically only available during big sporting events. Besides promotions, Sportbet.one has a welcome bonus of 125% on your first deposit of up to $1000.

What cryptocurrencies does Sportbet.one accept?
Sportbet.one accepts payments with Bitcoin (BTC), Tether (USDT), Ethereum (ETH), Litecoin (LTC), EOS, and SBET. Besides crypto, sportbet.one also accepts credit cards, Google Pay, and Apple Pay.
Top 5 Casinos December 2023