Rev up your engines as we guide you through the fast-paced world of vehicular soccer. Master the art of betting like a seasoned driver, navigate through diverse betting markets, and stay in the loop with the latest Rocket League tournaments.
What Is Rocket League?

Top Rocket League Betting Sites

How Does Rocket League Work?

How To Bet On Rocket League

Key Rocket League Tournaments & Leagues
Rocket League Betting Sites & Tips
What Is Rocket League?
Launched in 2005, Rocket League is the first game of its kind, combining elements of car racing games and football. Its unique gameplay has helped Rocket League attract millions of players, and even now, well over a decade later, it's one of the world's most popular online video games.

Shortly after its release, Rocket League formed a strong competitive scene, which is one of the biggest in the esports industry, and it continues to grow. By offering fast-paced gameplay filled with nail-biting moments, Rocket League is one of the games that are here to stay.
Largely thanks to its exciting gameplay, which attracted millions of people to Rocket League, the game has managed to form a globally competitive ecosystem, which didn't need long to enter the world of online esports betting.
Nowadays, every esports bookmaker and most traditional sportsbooks offer Rocket League betting markets, and considering how easy it is to understand and follow Rocket League, it's one of the best games to start betting on for those with no experience in esports betting.
Top Rocket League Betting Sites
How Does Rocket League Work?
Rocket League is a video game combining car racing and football elements. And as weird as this combination might sound, it works exceptionally well and results in one of the industry's most exciting, fast-paced video games.
A Rocket League match is played between two teams of three players, each of whom controls a car. The games are played on an ice hockey rink-like pitch with two goals on each side. Like in football, the game's main objective is for the players to score goals by crashing their cars into an oversized ball, which then bounces in the direction the vehicle is facing.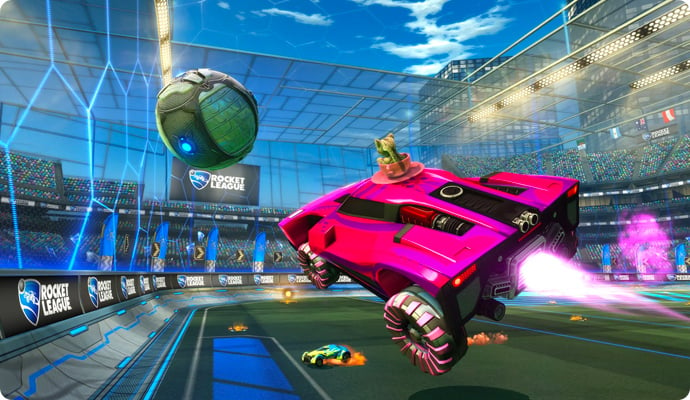 All cars also have "boosts", which provide additional speed and temporarily allow them to fly in the air, giving more flexibility when controlling the ball and bouncing it into the opponent's goal. The high mechanical skill and ability to manoeuvre the cars at the highest level also lead to many intense, nail-biting moments and an exciting viewing experience.
But most importantly, Rocket League offers many excellent betting opportunities.
How To Bet On Rocket League
Betting on Rocket League is very straightforward, and due to its nature as a game that is essentially football with cars, it's a perfect esports for those who've never bet on esports before.
But most importantly, thanks to Rocket League's popularity and its well-developed competitive scene, RL betting markets are easily accessible to esports and traditional bookmakers.
Moneyline




A moneyline bet in Rocket League is a wager on which team will win the game. It's a simple wager which is used only to predict the winner of any given match, and it doesn't matter by how much a team wins or how long it takes them; the only thing that matters is the final result.




Handicaps




Handicaps in Rocket League work the same way as in football, as a wager offered by bookmakers, which gives one team an imaginary advantage or disadvantage depending on their perceived strength. Handicaps are offered to level the playing field between two teams that aren't evenly matched, most commonly with a goal handicap.




Bookmakers will often offer goal handicaps in Rocket League, but only when betting on individual games. Since most Rocket League matches are played as best-of-three, bookmakers also regularly offer map handicap bets (+/-1.5 maps)




Totals




Totals are wagers used to predict whether a certain statistic will exceed the predetermined value by the bookmaker and are one of the most popular bets among Rocket League bettors. However, since there aren't that many stats we can measure in a Rocket League match, the main two over/under wagers available are total goals, and total maps played.




Outrights




Outrights are bets on future events, most commonly, bets on which Rocket League team will win a tournament. As one of the most lucrative bets, Rocket League outrights are always available ahead of big RL events and include three main types – outright winner, to reach the final, and region of the winner.




Some bookmakers also offer group betting (who will win Group X) for the biggest Rocket League events and accept wagers on tournament MVP.
Key Rocket League Tournaments & Leagues
Rocket League has a healthy competitive ecosystem divided into five tiers: S-Tier, A-Tier, B-Tier, C-Tier, and D-Tier. S- and A-Tier are the biggest and most important Rocket League events, while C- and D-Tier are smaller, regional competitions featuring semi-professional teams.

Typically, the smaller tournaments aren't well covered by betting sites and often, the smallest events won't have any coverage at all. However, there are plenty of betting markets on more significant events punters can easily access on esports and traditional bookmakers.
Rocket League's main circuit is the Rocket League Championship Series (RLCS), which hosts regional leagues in Europe, North America, Oceania, South America, EMEA, Asia-Pacific, and Sub-Saharan Africa.
All regions have separate leagues and tournaments, which feed into RLCS Majors - international events for the best-performing Rocket League teams from their respective regions. An RLCS season is divided into three splits – Fall, Winter, and Spring – each culminating with a Major.
At the end of the season, there is an RLCS World Championship, which welcomes teams that accumulated the most RLCS points through regional and international competitions, who then compete for the title of RLCS world champions and the lion's share of the +$2 million prize pool.
Not only does Rocket League have a very healthy and well-organised competitive scene, but the majority is extremely well covered by bookmakers, making it easy to find RL betting markets and start betting on the game.
Key Rocket League Tournaments:
Rocket League Championship Series (RLCS) Regional Events (Invitational, Cup, Open)
Rocket League Championship Series (RLCS) LAN Majors
Rocket League Championship Series (RLCS) World Championship
Gamers8