TenZ Might Be Staying With Sentinels For VCT 2024
TenZ will remain with Sentinels
It's unclear whether TenZ will stay with Sentinels as a Valorant player
The North American esports organisation has yet to officially announce any roster changes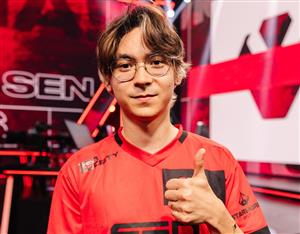 TenZ Sentinels
(credit: via Twitter (@Sentinels))
One of the best Valorant players in the world, Tyson "TenZ" Ngo might be staying with Sentinels for the Valorant Champions Tour (VCT) 2024 season. Even though the esports organisation has yet to officially announce TenZ as a member of the team for the next season, Sentinels have released a video stating that TenZ is staying – in what capacity remains to be seen.
As confirmed on Friday, September 8, TenZ has extended his contract with Sentinels, suggesting that the 22-year-old will continue playing for Sentinels in the 2024 VCT season. We're currently in the off-season period, which is notorious for roster changes and the chaos that ensues with teams releasing players and rebuilding their lineups in a bid to find more success in the next season.
And while teams are hard at work, looking to lock down star players early, Sentinels seem to be following the same trend; however, their announcement of TenZ deciding to stay with the North American organisation leaves a lot up to the imagination, as it doesn't whether he'll remain as a player or in another capacity.
TenZ originally signed a one-year contract with Sentinels, which ran out at the end of 2023, unlike most other players on the roster, who have contracts extending for one more year.
The video titled "He's here to stay" confirms that TenZ will remain with Sentinels at least until the end of the 2024 VCT season, and while it doesn't confirm that TenZ will play for Sentinels, it does seem like it.
If that's the case, Sentinels likely have a locked roster for the 2024 season, which will feature TenZ, Zachary "zekken" Patrone, Bryan "pANcada" Luna, Gustavo "Sacy" Rossi, and Jimmy "Marved" Nguyen.
The current roster has not accomplished much in the 2023 season and struggled to find the same success as in 2021. Sentinels kicked off the year with a 17th-32nd place finish at VCT 2023: LOCK//IN São Paulo and ended the VCT 2023 Americas League in seventh place.
TenZ and co. ended the season with a disappointing fourth-place finish at VCT 2023: Americas Last Chance Qualifier in July, missing out on their chance to represent the Americas region at the VALORANT Champions 2023.
Considering Sentinels have not announced any roster changes besides unveiling that TenZ will stay, it seems likely that the five players will stick together for the next season. However, given the team's lack of success, it's not entirely unlikely that Sentinels will look to make at least one roster change before the 2024 VCT season kicks off.