G2 Esports Defeat ENCE, Win IEM Cologne 2023 Trophy
G2 Esports defeated ENCE 3-1 in the IEM Cologne 2023 finals
IEM Cologne 2023 was the final big event in CS:GO history
Nikola "NiKo" Kovač was recognised as tournament MVP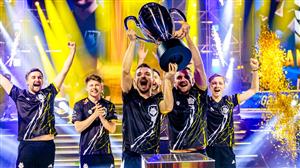 On Sunday, August 6, G2 Esports won the final big event of the Counter-Strike: Global Offensive era in front of thousands of fans at LANXESS Arena in Cologne, Germany. G2 Esports, who entered the game as firm favourites, when they dismantled ENCE 3-1, etching their names in the history book as the final Intel Extreme Masters Cologne champions in CS:GO history.
Throughout the best-of-five series, G2 Esports were the clear better team, showing very few signs of struggle. Nikola "NiKo" Kovač and his crew kicked off the IEM Cologne 2023 grand finals with a dominant start on Nuke, taking an 11-4 lead before the switch and closing out the map with a perfect 5-0 on T-side.
After securing the series lead, G2 Esports faced some resistance from ENCE, who kept Mirage close, even securing an 8-7 lead before the team switched sides. But again, G2 Esports found momentum in the second half and tore apart ENCE with a 9-2, winning the second map of the series 16-10.
Following two dominant showings on Nuke and Mirage, G2 Esports started showing some cracks on Anubis and allowed ENCE to run away with a 10-5 lead before halftime. After switching over to CT-side, ENCE won the pistol round and added two more to get themselves just two rounds away from reducing the series deficit.
But even when trailing 5-14, G2 Esports didn't give in. They started working their way back into the match, reducing the gap to 13-15, but eventually ran out of steam and hat to admit defeat to ENCE, who closed out Anubis with 16-13.
With the wind in their sails, ENCE seemed ready to orchestrate a reverse sweep, but they quickly met the harsh reality. G2 Esports retook control of the series on Ancient, running away with an 8-2 lead thanks to their phenomenal display on T-side.
ENCE responded and grabbed a few rounds for themselves before the switch and strung together three rounds on the T-side, tieing the map at 9-9. But they didn't manage to get much done as G2 Esports weren't ready to let another map slip between tier fingers.


On the back of Ilya "m0NESY" Osipov, G2 Esports displayed a perfect CT-side, giving ENCE no space to build on the early round momentum. And despite ENCE's best efforts, G2 Esports proved to be the superior team, winning the last seven rounds to close out Ancient 16-9 and the series at 3-1.

By beating ENCE in the IEM Cologne 2023 grand finals, G2 Esports won what might be the final big event of the Counter-Strike: Global Offensive era, adding to their success in February, when G2 Esports won IEM Katowice 2023.
Alongside the eternal glory that comes with winning one of the most prestigious CS:GO tournaments, G2 Esports also collected $400,000 in tournament winnings, 3,000 BLAST Premier points and a direct invite to IEM Katowice 2024 – which will be played on Counter-Strike 2.
ENCE, on the other side, claimed a $180,000 consolation prize and 2,000 BLAST Premier points, which bumped them up to no.6 in the BLAST Premier World Leaderboard 2023.
NiKo was recognised as the tournament MVP, with his 1.49 performance rating in the grand finals and the tournament's highest 1.35 rating.